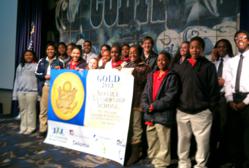 The fact that Carpe Diem's students won the competition in their first year of operation is nothing short of extraordinary.
Indianapolis, Indiana (PRWEB) March 16, 2013
On Tuesday, March 12, Carpe Diem-Meridian, a tuition-free public charter school for grades 6 – 12, which opened in August 2012, won the regional "Students in Action" award, created by the prestigious Jefferson Awards to promote volunteerism in the nation's schools. Carpe Diem-Meridian was deemed a Gold Medal School by the judges and was selected as the winner of the Regional Competition. The students will receive a check for $1,500 to support their "Students in Action" projects and represent the state of Indiana and their region at the 2013 Awards Banquet in Washington, D.C. in June.
"It is unusual for a school in its first year of existence to medal at the competition," comments Regional "Students in Action" Director Amanda Johnson. "The fact that Carpe Diem Meridian's students won the competition in their first year of operation is nothing short of extraordinary."
"We are thrilled and so proud of our students," comments Principal Mark Forner. "Alyssa Starinsky, our Social Studies teacher and "Students in Action" director, has done a marvelous job throughout the school year engaging and encouraging our students to serve others. Our kids took the competition and their preparation seriously - and they delivered. Congratulations to our kids and to 'Miss Star'!"
Carpe Diem-Meridian "Students In Action" (SIA) "aims to make a positive, and sustainable impact in the Indianapolis community through community service opportunities and projects that are open to all area students. We want our legacy to be the importance and power of service." The students, supported by their media sponsor WRTV Channel 6 and donations solicited through their website, originated a number of public service projects throughout the school year that made a significant impact on their community.
Starinsky has a firm vision for her students, "I want them to be articulate, to be confident, and to be part of life-long service." Since August when the school opened its doors, 90% of the students attending Carpe Diem-Meridian are participating in "SIA." They have worked nearly 10,000 service hours and 100% of the money they raise is invested in their projects.
Key accomplishments include establishing a partnership with The Julian Center's "Circles of Support" children who are victims of domestic violence and sexual assault. This project was recognized by the Association of America Educators who presented them with a check for $500, which was used to purchase toys. The students are responsible for fundraising, which includes writing grants, as well as promoting their projects, and recruiting volunteer participation from the community. Details of all the Carpe Diem-Meridian "SIA" projects, photos and videos can be found on their website.
To find out more about the school, as well as how to become involved as a volunteer or donate to Carpe Diem-Meridian "Students in Action," visit the website and follow "SIA" on Facebook and Twitter.
About Carpe Diem Indiana
Carpe Diem Indiana leverages technology, information, and human resources to ensure a superior learning experience at its schools that assures all its students will be career ready and college prepared. Carpe Diem Indiana Schools are tuition-free public charter schools using a personalized blended-learning model to educate 6-12th grade students. By August 2013, Carpe Diem Schools will be located in Indianapolis and Fort Wayne, Indiana; Cincinnati, Ohio and Yuma Arizona.
The Jefferson Awards
The Jefferson Awards are a prestigious national recognition system honoring community and public service in America. Established in 1972 by Jacqueline Kennedy, the Awards were created to serve as a Nobel Prize for public service. Today, their primary purpose is to serve as a "Call to Action for Volunteers" in local communities. As a grassroots program, the Jefferson Awards created "Students In Action" (SIA) in order to promote volunteerism in the nation's schools. Each spring, competitions are held in thirteen regions across the country among participating schools. SIA students are required to prepare and deliver a presentation highlighting their group's volunteer activities and accomplishments from the previous school year. A panel of judges, including representatives from local media, business and service groups, then determines whether each group has met the qualifications to be either a Bronze, Silver or Gold medal school. One school is selected at each competition as the Regional Winner among the competing schools.