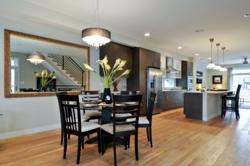 Chicago, Illinois (PRWEB) March 15, 2013
Modern Home Tours is returning to Chicago this April, as a stop on the spring 2013 national tour. On Saturday, April 20, residents will get the opportunity to explore some of the coolest examples of modern architecture and interior design, right here in Chi-town, during the 2013 Chicago Modern Home Tour.
The self-guided driving tour will feature six to ten architecturally progressive and contemporary homes that exemplify modern living in and around Chicago. Visitors see first-hand how homes incorporate the principles of Modernist thinking with cutting edge building science and sustainable techniques. It is craft, science, and talent all coming together to create a dwelling that completely fits a modern lifestyle.
The 2012 Modern Home Tour featured local architects Don Erickson, John Ronan, Lohan Anderson, Alexander Gorlin, and Rob Wheat, and firms Brininstool+Lynch+Kerwin, Osterhaus-McCarthy, Zoka Zola Architecture + Urban Design and UrbanLab. To view participating homes on the 2012 tour, click here: http://chicago.modernhometours.com/2012tour
"Chicago is such an architecturally diverse and inspired city that was it was no-brainer for us to return this year," says Modern Home Tours founder Matt Swinney. "Frank Lloyd Wright influences are heavy throughout the Midwest, and Chicago displays some of the most perfect examples of that style, both in the mid-century and contemporary forms."
Chicago-based Designs 4 Dignity has been named as the 2013 Chicago Modern Home Tour non-profit partner. Designs 4 Dignity is a collection of individuals committed to assisting nonprofit organizations that change lives, by transforming spaces into more functional and nurturing environments. By pulling together the combined power of pro bono design, construction talent, and donated materials, Designs 4 Dignity breathe new life into existing non-profit spaces. This gives the assisted non-profit organizations the ability to better serve individuals in their focus mission.
"We're thrilled to be the beneficiary of this year's Chicago Modern Home Tour. This will be a terrific day for everyone to tour some of our area's greatest modern lifestyle homes, while supporting the mission of Designs for Dignity," says Jennifer Sobecki, Executive Director of Designs for Dignity.
Participating homes will open their doors for viewing from 11AM – 5PM on Saturday, April 20, in and around Chicago. Tickets are $30 in advance; $40 on the day of the tour, available at designated locations. All are invited. Kids under 12 are free. For more details and a current list of homes, please visit http://chicago.modernhometours.com.
About Modern Home Tours, LLC: Based in Austin, Texas, Modern Home Tours, LLC was founded by partners Matt Swinney & James Leasure to introduce Modern architecture and living to people across the nation. Through fun and informative tours in dozens of cities across the USA and Canada, we invite people into some of the most exciting examples of Modern architecture and design in the nation. With carefully selected architects, neighborhoods and architecture, our home tours are unlike anything you've ever seen. Not only will you learn about the cutting edge of home design while on our tours, but you might even get an idea or two for your next home project.