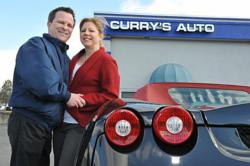 With a 52% increase in population since 2000, we see Leesburg as an excellence location to expand our business.
Leesburg, VA (PRWEB) March 28, 2013
Curry's Auto Service, one of the largest independent auto service and repair shops in the Washington, DC, region, opened its tenth and largest shop on March 11th. The new shop is located at 219 Catoctin Circle in Leesburg, with 13,300 square feet and 16 service bays.
"We have had our eye on Leesburg for some time," says Curry's Founder and CEO Matt Curry. "With a 52% increase in population since 2000, we see Leesburg as an excellence location to expand our business. The fact that a large portion of the population commutes into Washington, DC, also makes a strong case for a new auto service company."
With the opening of the Leesburg shop, Curry's Auto Service now operates nine locations in Northern Virginia and one in Maryland. The shops are located in Alexandria, Arlington, Chantilly, Dulles, Fairfax City, Falls Church, Gainesville, Gaithersburg, Great Falls/Reston and Leesburg.
In January 2013, Curry announced his new partnership with Automotive Research and Design of Port Angeles, Washington, with exclusive right to franchise high-voltage battery pack charging and conditioning for hybrid vehicles. Curry's is one of the only repair shops in the country to be able to diagnose and perform the proper testing and battery conditioning procedures for hybrid electric cars. This technology not only offers increased vehicle performance and gas mileage, it positions Curry's Auto Service as a leader in "Green Technology."
Also, Curry has invested in a Toronto-based computer development company, Autoserve1, which has created interactive software allowing auto repair shops to illustrate repairs and estimates through pictures, animation and video. Curry's has this system in all of their stores and has started licensing this pioneering software to other auto repair shops throughout North America. Curry's is showcasing it as a Service Knowledge Center on its new website, which helps educate customer and employees on vehicle operating systems.
About Curry's Auto Service
Founded by Matt and Judy Curry in 1997, Curry's Auto Service was named "2010 Top Shop" by Motor Age Magazine. In June 2010, Curry's Auto Service was chosen by the readers of Northern Virginia Magazine as "Best Auto Repair Shop" in Northern Virginia. In addition, Curry's has received the highest AAA ratings in the country for customer satisfaction.
With headquarters in Gainesville, Virginia, Curry's Auto Service offers full auto service and maintenance with ASE certified technicians and state of the art equipment. Curry's sells tires as part of the Tire Pros Network, the largest network of independent tire dealers in the US. Through the Tire Pros Network, Curry's Auto Service offers its customers nationwide tire and automotive repair warranties, honored coast-to-coast at more than 300 Tire Pros stores and 10,000 American Car Care Centers. Curry's is also a Bosch Authorized Repair Dealer and their diagnostic and electronic service and repair expertise sets them apart from their competitors.
In 2009, Curry's Auto Service was the first auto service facility in Virginia to receive the AskPatty "female friendly facility" certification. As part of this program, Curry's customers have access to an online community providing impartial advice to women on auto purchases, repairs and maintenance.
Curry's technicians, who are all certified by the National Institute of Automotive Service Excellence (ASE), perform technical repairs and diagnostics for which many of the franchise outlets do not have the expertise. They also perform routine maintenance, such as oil changes, transmission flushes, tires and state safety and emissions inspections. Curry's technicians can repair all makes and models, including race prep and performance modifications, and service and repair European, exotic and hybrid electric cars.