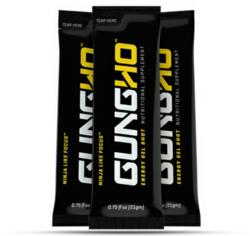 GungHo contains natural ingredients at proven effective doses to improve focus and concentration... Unlike energy products, GungHo will actually increase levels of critical neurotransmitters in the brain over time -- Dr Perry Renshaw, MD, PHD
Salt Lake City, UT (PRWEB) February 14, 2013
How do energy shot & drink companies know what caffeine is supposed to do? They typically don't. But we do. Our scientists at GungHo have been studying it for over two-dozen years. They haven't. So what do they do? They pour it on. More is better. Do you feel the jolt?
Your brain does, that's for sure. Let's just scramble the neurons.
Sure, scrambled neurons will wake you up. It's like hitting a hive of bees with a stick.
Not good.
Crash goes the brain when the caffeine leaves. Piles up like a twisted slinky.
Not good.
Quit it, we say. Do it right, we say. Build up neuronal balance. Ninja hate crash. Ninja like focus.
How is that done?
By combining caffeine with other stuff that maintains, even enhances, neuron health.
It's all about balance.
Plain old caffeine can't give it. Caffeine stimulates just one aspect of the central nervous system – the sympathetic division. A bunch of meaningless filler (vitamin, taurine or steroid overload) won't give it.
Does GungHo know how to do it?
Yes. Provide enough caffeine for short-term alertness, balanced with effective amounts of ingredients to stimulate the cognitive side of your brain, so as to not disrupt our physiology.
GungHo' stance: Wake up the slumbering brain, feed it balanced energy, gain more of what the brain is supposed to do: Focus. Clarity. Recall. Real brain power with all neural systems building and working together.
It's anti-jolt. It's anti-crash. It's the way it is supposed to be.
Balanced energy: It starts with just the right amount of caffeine plus just the right amount of Cognizin Citicoline*, then effective amounts of Ashwaganda and Eluethero which – working together – to maintain balanced neural function, steadily rising and expanding in warmth, comfort, potential and energy.
Ahhh, that feels good. As it should.
Proper caffeine function is not achieved by clowns playing with their circus toys, purposely overloading just one aspect of your nervous system. It is about science and balance.
So tell your friends about the GungHo challenge – feel the difference. You'll get more done or your money back.
*GungHo is the only energy/focus shot/drink product allowed to put effective amounts of Cognizin Citicoline in their products (250mg in each shot). You may see ineffective dusting of this substance on the labels of other products (always between 5 and 50 mg). Don't be fooled. Others know it is good stuff, they just can't put enough in their products to do any good. So they fake it.
GungHo is a focus supplement for the brain. It was launched by Go GungHo, LLC out of Salt Lake City, UT in early 2012. More than simple alertness, GungHo's proprietary blend of ingredients are proven to increase focus, brain energy, concentration, memory storage, and memory recall, while avoiding the harsh rush, jitters, and crash common with energy products.