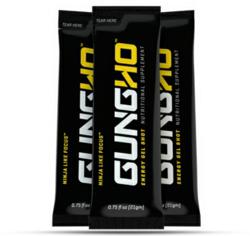 GungHo contains natural ingredients to improve focus and concentration -- Dr Perry Renshaw, MD, Phd.
Salt Lake City, Utah (PRWEB) February 28, 2013
It's not easy to stay a step ahead of collegiate retail trends, but one buying group has been doing just that successfully for 25 years. Connect2One helps its more than 650 college store members fill the shelves with the items most likely to appeal to the college crowd. If you want to know what's hot with college students across the country, there's no better resource than college trend expert Paula Haerr. Her annual "What's Hot" presentation at CAMEX (Campus Market Expo) this week, the industry's top trade show, selected just a few lucky winners from literally hundreds of products targeting college students. GungHo® was one of the winners.
"There's a huge trend on campus with kids buying illegal Adderall® (focus drug prescribed for ADHD) to ace tests. I liked how with GungHo i felt focused and productive, but with no side-effects," said Lisa Muldovy, UVU student.
A study in the journal, Addiction, found that one in four college students abused Adderall® – a drug prescribed to treat Narcolepsy and ADHD – using it without a prescription.
"I liked how GungHo is healthier than the energy shots and drinks. It builds the cognitive side of your brain. You feel instant focus and it builds brain health over time. Not just a short-term spike then crash," said Dane Adams, from the University of Colorado.
"No one rocks a 5-Hr Energy t-shirt, but kids fight over GungHo's Ninja-Like Focus t's. Their videos are hilarious," stated Jeff Richards of Vermont University.
GungHo is a member of the National Association of College Book Stores (NACS). "We want to help students boost their GPA and ace exams without abusing black market drugs or disrupting their physiology with unbalanced energy shots," says Mason, GungHo co-founder.
About GungHo®
GungHo is a focus supplement for the brain. It was launched by Go GungHo, LLC out of Salt Lake City, UT in early 2012. More than simple alertness, GungHo's proprietary blend of ingredients are proven to increase focus, concentration, memory storage, and memory recall, while avoiding the harsh rush, jitters, and crash common with energy products.