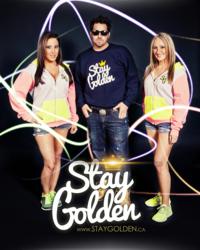 "The Double Golden Opportunity"
Charlottetown, Prince Edward Island, Canada (PRWEB) March 19, 2013
Stay Golden Apparel is proud to announce partnership with TV Personality Evan Golden as the new face and spokesmodel for the brand. The company plans to use his ongoing exposure in the entertainment and social scene to continue to grow on an international level.
Stay Golden Apparel was founded in February 2012 at the Gahan House Pub in beautiful Charlottetown, Prince Edward Island, Canada by three entrepreneurs from Colonel Gray High School. Devin MacGregor, Alex Khan, and Coltin Handrahan saw the need of an Island clothing brand that wasn't being met by corporate companies. The goal from day one was to provide quality clothing at good prices to Islanders while giving back to the community and building a brand on the Island lifestyle.
When the summer of 2012 arrived, the company began a transformation from a student start up into an established company. After placing at the top of the Start up PEI Challenge from over 20 other local start ups, Stay Golden went digital with http://www.staygolden.ca and began renting its first office at 224 Queen Street in downtown Charlottetown. Throughout the summer the team began developing a dynamic set of partnerships with other local businesses and has now partnered with veteran model and entertainer Evan Golden. "Our brand's philosophy is to stay true; be yourself; never change and when, you see Evan on television, he is always original and staying true to himself. We knew he was ideal for our image and to help us expand our line in the States and the fact his last name was Golden made it a perfect match," says Handrahan.
Last year's summer line included classic t-shirts, crop and tank tops, zip-up hoodies and more, suitable for the warm climate of Prince Edward Island, Florida, California and anywhere else you want to bring the island lifestyle. This year's summer line will be ready for sale soon.
"When speaking with the three founders and hearing their passion, drive, creativity and dedication, I knew this was an opportunity I couldn't pass up. I really believed in them and loved the style they've created. The apparel started out geared towards the teenage demographic, but when people feel and see the quality and the message, this is a clothing line that can be worn by all ages," said Evan Golden.
Stay Golden has also built a solid following on social media sites to keep people continually engaged with the brand, a big part of which is about the P.E.I. lifestyle.
The team has been working full time to try to keep up with both retail and wholesale orders and continue to gain popularity on instagram, facebook and twitter.