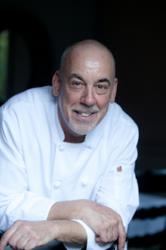 Farmhouse Owner Catherine Bartolomei " We are thrilled and honored to be invited to support the foundation that is so very near and dear us and very excited to be bringing our Lost & Found Pinot Noir to New York."
Forestville, Sonoma County, CA (PRWEB) March 19, 2013
Farmhouse Inn Executive Chef Steve Litke is off to James Beard House in New York to prepare a very special Sonoma Wine Country dinner. The event is a benefit to raise funds and awareness for the James Beard Foundation. All of the proceeds go directly to support the Foundation's various programs including educational workshops, culinary scholarships and seminars. The event has evolved into the must-attend event of the year for culinary professionals.
Chef Steve is bringing along some of his signature dishes from the famed Farmhouse Inn Restaurant and the Farmhouse Master Sommelier Geoff Kruth has paired amazing Sonoma County wines with each dish. With limited seating and this amazing menu you should reserve your seat soon.
Sonoma Luxury Wine Country Dinner
MENU
Hors d'Oeuvre
Octopus with Chorizo and Potatoes
Chilled Pea Soup with Minted Sea Scallops
Cold-Smoked Salmon Terrine with Spring Pea Pancake
House-Smoked Liberty Duck Breast with Plum Wine Sauce
Iron Horse Wedding Cuvée NV
Dinner
Ahi Tuna Tataki with Early Spring Vegetables and Wasabi–Citrus Emulsion
Ryme Las Brisas Vineyard Hers Vermentino 2011
Farmhouse-Cured Pork Belly and Seared Scallop with Cardamom–Carrot Purée and Pork Caramel
Wind Gap Windsor Oaks Vineyard Pinot Gris 2011
Farmstead Rabbit Trio > Applewood-Smoked Bacon–Wrapped Loin, Roasted Rack, and Leg Confit with Whole-Grain Mustard Sauce
Lost & Found Pinot Noir 2010
Beef Duo > Zinfandel-Braised Short Ribs and Seared Tenderloin with Bone Marrow–Mushroom Butter, Horseradish-Braised Cabbage, and Spring Vegetable Farro
Arnot-Roberts North Coast Syrah 2011
The James Beard Awards will be presented on May 6 with a theme of "Lights! Camera! Taste! Spotlight on Food & Film." Stanley Tucci (of Hunger Games fame) will be the master of ceremonies. The James Beard Awards were once dubbed the "Oscars of the food industry" by Time magazine- a comparison that is especially fitting as this year is a celebration of both food and film.
Farmhouse Inn is nestled among the Russian River Valley's lush vineyards, and delivers unparalleled luxury, exquisite surroundings, and Michelin-starred fare sourced from the owners' ranch and local artisan purveyors. Satisfy your taste buds- and your wanderlust- with an elegant, indulgent menu that captures the romance of Sonoma wine country.