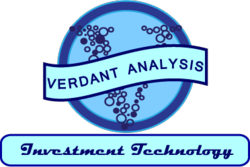 If you consider it carefully, you may decide that unlimited growth is not a reasonable assumption.
Hamilton, Canada (PRWEB) March 05, 2013
Verdant Analysis, developer of financial modeling and investment analysis software today published the final of three financial infographics focusing on compound growth. Part Three asks the question whether unlimited growth in the stock market is a realistic assumption.
Using a starting year of 1950 and the average annual growth rate of the S&P500, the infographic compares a hypothetical growth line that doubles every 8 and one-half years to a line that plots the actual S&P500 value for the same time periods. The S&P500 follows the growth path very well for the first 50 years, but after 2000 it can no longer sustain parabolic growth.
The infographic then draws on the work of Dr. Robert J. Gordon, Northwestern University, to examine what will impact growth in the coming years.
"We've lived in a growth environment for a number of generations, and it's become almost an unquestioned assumption that it will continue indefinitely and to say otherwise is nearly heretical," says Jennifer Cameron, CEO. "However, if you consider the question carefully and look at the evidence, you may decide that unlimited growth is an unreasonable theory."
"Since 2000, the S&P500 has only gained about 1.5%, yet it has made tremendous moves: loosing 50% of its value and gaining back 100% a couple of times," says Cameron. "This could be reflective of this new, low growth environment as the market tries to figure out its new normal."
The infographic concludes by suggesting that investors need to re-evaluate their strategy when the assumption of growth is removed. As for what that strategy might be, Cameron says that Verdant will be testing some hypotheses and will publish the results as they become available. "If you look at Dr. Gordon's work, individuals are going to be facing a lot of financial pain. I think that companies that can address this will do well. Those that are indifferent to it will not. A simple example would be a company that builds a product to last in a cost efficient manner versus one that builds to dazzle with a lot of entertaining features."
The first infographic released on January 29, 2013, explained the concept of compound growth in practical terms. Specifically, it elaborated on the work of Dr. Albert Bartlett, University of Colorado, and the concept of "doubling time" as it applied to finance. Part two was released on February 5, 2013 and focused on applying compound growth concepts to personal finance in order to grow wealth.
The infographics can be found on the company's Facebook page on the company's blog and on prweb.com.
About Verdant Analysis (http://www.verdasis.com)
At Verdant Analysis we believe in a scientific approach to investment analysis. We develop software to enable users to test investment hypotheses and to experiment using financial statement and market data.
Specifically, users can build financial models, ratios and regressions and apply them to portfolios of securities. This helps users perform financial or fundamental analysis more quickly and to screen securities according to the algorithms they've developed and to tweak their models as necessary.
Our mission is to help investors and financial professionals obtain superior insight into publicly-traded companies, with the outcome of improved investment decision making.