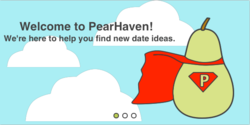 I think this is a great way to get ideas.The app is clean, easy to navigate, and full of great ideas from people just like me.
Austin, TX (PRWEB) March 14, 2013
PearHaven.com's date idea website is celebrating its successful first year since being launched at South by Southwest in Austin, TX, March 2012. The free sign- up website offers members a place to record their memories, earn badges, post photos and find new date ideas. The site uses Foursquare.com which helps provide users with "personalized recommendations and deals" when they are out and about or even traveling outside the USA.
With the development of its iPhone and iPad App, PearHaven members can be on- the -go, finding new date ideas, posting their own date ideas or recording their memories with photos. The App has a 5 star rating with one user's comment, "I think this is a great way to get ideas.The app is clean, easy to navigate, and full of great ideas from people just like me."
 David Lackey created PearHaven to "revolve around couples rather than individuals, while utilizing all of the different sharing aspects of traditional social networks and bringing them into romantic relationships". The idea for PearHaven was born after a discussion about couples' relationships, which was spurred by a Social Psychology class Lackey was taking at Princeton. The concept came to fruition the following summer. Lackey says, "As the concept started to grow into a reality we began to discover that what mattered most to our potential users was finding new date ideas. Couples would often feel limited, going to the same places just because they weren't aware of other great date spots. We conducted a market research survey with about 200 participants and found that 80% of people from exclusive relationships said that finding new things to do was difficult. We shifted our direction to primarily pursue this."
Lackey understands the market demand for social networks inside the current landscape, where couples enjoy sharing content related to their relationships. PearHaven provides a place within the social network sphere for such relationship-focused expression; a spot where couples can share pictures, experiences, and other collaborative content from their relationships' histories. According to Lackey, "It should be easy as saying 'we want to see that new action film and then eat at a Mexican restaurant.' With our website, it's just that simple. PearHaven maps out different theater-restaurant combinations that will make a great movie and dinner night. It's also easy to record dates that a couple has been on. Went to the park and then got ice cream? Tag those places and they have a date idea. Consequently, users have access to all of these great date ideas from couples that they would have never known about before."
PearHaven helps to inspire and promote couples' long-term romantic relationships. Using different features to keep couples romantically involved with each other, the website suggests and maps out the best date ideas. The website also offers a fun game-like design called gamification where couples are rewarded achievement badges for their date experiences such as going on dates in different cities or connecting with other couples.
The website fosters strong relationships through the use of technology. PearHaven members share their favorite date ideas, record their memories, post photos and find the best date ideas or relationship advice. PearHaven encourages couples to remember those positive times in a relationship, thus strengthening couples' relationships.
PearHaven's free app for the iPhone and iPad offers date ideas on-the-go. Members can also use the app to post their date experiences and photos while they are out and about. PearHaven's blog features relationship advice, dating ideas and fun trivia.
About PearHaven
PearHaven is not a dating site.
It is a social website with free sign-ups for people of all ages who are dating, engaged, in a long-term relationship or married. Members can record their dating experiences, connect with others, post photos and earn achievement badges for trying the latest date ideas. PearHaven.com suggests the best date ideas and maps the locations.The website was founded by David Lackey, a student at Princeton University. PearHaven has a free iPhone and iPad App at the App Store to record date ideas and photos on-the-go.