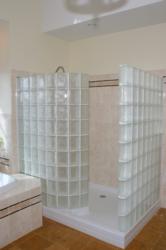 assembling large projects in small sections will make final assembly easier to handle.
Morris, Illinois (PRWEB) March 15, 2013
Quality Glass Block and Window Co. understands these types of personalities, this is why they are educating the do-it-yourself community about the options available for those that choose to have ultimate control over the outcome of their projects.
Most residential glass block projects, be it glass block windows or even a glass block shower enclosure, can be done rather easily with the proper tools and up-to-date instructions. Of course, everything must begin with a plan. The first decision that needs to be made is weather to use mortar or silicone. This is really a matter of preference for the end result. A window or shower enclosure will have the mortar joints whereas the silicone application will leave a cleaner, all glass look. However, whichever way that is decided upon, will affect the sizing, layout and possibly even the number of blocks required to complete the project due to the presence or absence of the mortar joints. Get a better understanding of glass block sizes and how the assembly affects the final size by visiting Quality's Glass Block Sizes web page.
Each application has its pros and cons. Much like the unavoidable mortar joint, silicone can prove to be difficult if caution isn't taken. Chris Danek, General Manager of Quality Glass Block and Window Co. offers this advice to the Do-it-yourselfers; "Mortar and silicone applications both should be assembled on a clean flat surface to maintain plumb and avoid scratches. Also, assembling large projects in small sections will make final assembly easier to handle." Plumb refers to how level the face or backside of the glass block window or shower enclosure is. If some of the glass blocks stick out of the face more than the others, this could lead to leakage issues later; so maintaining plumb is essential for a high quality finished product.
Mr. Danek also added a couple tips for ensuring a successful glass block assembly. "If you have decided to go with a mortar installation, use banding straps to help hold the partial unit together for transporting. When using silicone, it is very important to ensure that the silicone fills the areas where the corners of the glass block meet. If there are unfilled holes, water can leak in and mold will begin to develop after a couple of months."
Quality Glass Block and Window Co. offer their expertise and knowledge to the Do-it-yourself community. Assisting in layout, design and material estimations and price quotes for materials. "Should anyone that is contemplating any glass block project need assistance, we are always happy to assist in any way we can," said Danek.
Quality Glass Block and Window Company (http://www.qualityglassblock.com) is a leading provider of glass blocks used for windows, shower enclosures and vents. In addition to wholesale glass blocks, Quality Glass Block and Window Company provide installation services or guidance for do-it-yourself builders and homeowners.