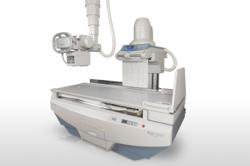 The versatile Kalare fluoroscopic imaging equipment provides a valuable healthcare resource for residents in Northern Sonoma County.
Healdsburg, CA (PRWEB) March 25, 2013
In keeping with its tradition of providing patients in rural north Sonoma County with the best available care, HDH and the Kalmanovitz Charitable Foundation worked together to bring the new fluoroscopic imaging equipment to Healdsburg. Fluoroscopy is a modern imaging technique that utilizes X-rays to capture moving images of patients' internal structures in real-time. With the Toshiba Kalare, HDH has the resources to provide patients with comfortable, rapid, and accurate fluoroscopic diagnostic imaging of a diversity of internal structures.
Common procedures performed with the help of fluoroscopy technology include investigations of the gastrointestinal tract, placement of feeding tubes and some catheters, guidance in orthopedic and urological surgeries, implantation of cardiac rhythm management devices, and more. While these procedures can sometimes bring discomfort to patients, the Kalare's digital processor is one of the fastest in the industry, and the moveable imaging table can tilt patients to achieve precise imaging angles. These features promote patient comfort as well as clinical accuracy.
What sets HDH's state-of-the-art equipment apart from standard fluoroscopic imaging technologies is the Kalare's multi-functionality and variety of special features. The equipment also provides operators with robust, patient specific weight settings, advanced ergonomics for ambidextrous control of imaging functions, high speed processing, radiation dose controls, distortion correction components, and massive image storage space. As there are many uses for fluoroscopic imaging, both in diagnostics and treatment, the versatility of the Kalare is an extremely valuable healthcare resource for residents in northern Sonoma County.
Healdsburg District Hospital serves as the first-line inpatient, outpatient, and emergency care facility for the 60,000 residents of Windsor, Healdsburg, Geyserville, Cloverdale and the surrounding areas of northern Sonoma County, California. For more information on the hospital's comprehensive care, please visit HDH's website, or call (707) 431-6500 to schedule appointment.
With Centers of Excellence offering innovative services in wound care, neurology, pulmonary medicine, occupational health, specialty stroke care, geriatrics, orthopedics, radiology, and emergency/urgent care among many others, Healdsburg District Hospital exceeds the standards of conventional healthcare.