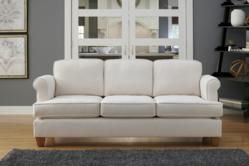 "...there are no new innovative companies in wood furniture manufacturing left in North America. Jeff Frank's company [Simplicity Sofas] might be the closest thing to it in upholstery manufacturing."
Robert Mark, Independent Furniture Professional
High Point, NC (PRWEB) March 19, 2013
Home Staging is big business for designers and real estate professionals. It is commonly accepted that "staged" homes with carefully selected furnishings sell more quickly and at higher prices than cluttered or empty homes.
Traditionally home stagers rent furniture and furnishings for each individual home over a period which can last anywhere from one month to six months or more. Typically the minimum rental is one month even if the home sells the first day on the market.
Home stagers typically prefer to rent their furnishings as a matter of convenience. The rental companies bring the furniture to the home set it up and then take it away when it is no longer needed.
Purchasing furniture is far more cost-effective than renting, but a home stager who purchases furniture is then responsible for all transportation and set-up. Since many stagers work alone this is impractical, particularly for large items like sofas.
In response Simplicity Sofas has introduced a more cost-effective non-rental alternative for home stagers, providing better quality and more versatile furniture at far lower cost over the long term. Some of the special features of the Simplicity Sofas furniture for home stagers include:
1. Sofas are assembled in 15 minutes without tools by first time users.
2. When unassembled the sofas can easily be carried by a single person.
3. Experienced assemblers (after 2 or more assemblies) take 5 minutes. Here is a video of an 8 year old boy assembling a sofa by himself in 3 minutes 52 seconds (without rushing).
4. All Simplicity Sofas furniture can be assembled, dis-assembled and re-assembled hundreds of times without any loss of structural integrity. Dis-assembly takes about 3 minutes.
5. Sofa styles can be quickly and easily changed from contemporary to transitional or traditional and back in a couple of minutes simply by switching inexpensive arm components that can be purchased separately.
6. Slipcovers are available for. Inexpensive tailored slipcovers can transform the look of the furniture with easy-to-clean removable covers at 1/3 the price of a new sofa.
7. All sofas fit through any door or stairway wider than 15 inches (less than half the size of a normal doorway.)
8. Two unboxed sofas (or a sofa and two chairs) can fit into a minivan or SUV.
9. All sofa styles are available in three sizes, including hard-to-find small and mid-size sofas. Interchangeable arms can be mixed and matched to transform the sofas from traditional to contemporary to transitional and back at minimal cost.
10. Damaged furniture in the field is easily and inexpensively fixed. Since the furniture is modular most problems can be solved simply by sending a new component part (arm, base, back, cushion, etc.)
11. Simplicity Sofas can be stored unassembled in half the space of a normal sofa.
Home stagers have already enthusiastically endorsed the Simplicity Sofas concept. Lynne McKee of Keller Williams Capital District Realty recently commented:
"I am a realtor and home stager and I purchased my first loveseat from you last year to stage houses. It is so easy to take apart and put in the back of my SUV to move from house to house. That one has been in four of my houses, and they all sold! I can easily lift the pieces by myself - not something I could do with a standard love seat. I liked the quality, appearance and function so much that I bought this second, identical one! It arrived yesterday. I am very pleased with it. I have told many friends and fellow realtors about your company. Along with liking your furniture, I like the way you do business. Your website is easy to navigate, your furniture arrives as promised and your customer service is amazing."
Simplicity Sofas is a High Point, North Carolina furniture company specializing in Furniture for Small Spaces. All furniture is custom-crafted by hand one-piece-at-a-time. Due to the extreme modularity of the design any one of more than 1 million different product variations can be hand-built in 30 days or less and shipped nationwide.
In December 2012 Simplicity Sofas was awarded the $20,000 Grand Prize for Most Innovative Small Business in America. http://finance.yahoo.com/news/phonebooth-announces-smb-innovator-awards-152600809.html