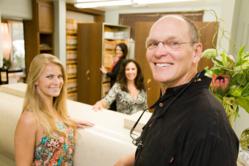 Dr. Schmidt has been my dentist and my husband's dentist for over 12 years. Dr. Schmidt has a wonderful bedside manner, he calls to check up after any procedures, and he has a very calm professional way about him. The staff is so welcoming and warm
Huntington Beach, California (PRWEB) March 27, 2013
Dr. Gary Schmidt, a popular Huntington Beach dentist, today announced the Olive Dental Group is now offering a new treatment option for sleep apnea. The clinic works with a sleep study lab which incorporates a simple device a patient wears each night to treat snoring and mild to moderate sleep apnea.
The Olive Dental Group is one of the first clinics to offer treatment for sleep apnea in Huntington Beach. Dr. Schmidt said, "The great thing about this treatment is that most medical insurance providers will cover the cost of treatment and the device so patients won't incur any out-of-pocket expenses."
As part of the sleep study, Dr. Schmidt takes an impression of the patient's upper and lower arches then has a laboratory fabricate a hard acrylic appliance the patient wears while sleeping. Treatment plan options are thoroughly explained so that every patient knows what to expect at each phase of the treatment.
"Dr. Schmidt has been my dentist and my husband's dentist for over 12 years. Dr. Schmidt has a wonderful bedside manner, he calls to check up after any procedures, and he has a very calm professional way about him. The staff is so welcoming and warm and they have been there forever. I never have felt like I am over diagnosed. I did crack a tooth at one point and they got me in right away." - Misty S.
Sleep apnea is a potentially serious sleep disorder in which breathing repeatedly stops and starts throughout the night. Patients may be diagnosed with the disorder if they snore loudly or feel tired even after a full night's sleep. There are two main types of sleep apnea the first of which is called 'Obstructive Sleep Apnea' and the second is called 'Central Sleep Apnea'.
The first is the most common form. It occurs when a patient's throat muscles intermittently relax and block the airway passages to the lungs. The second occurs when the brain doesn't send the proper signals to the muscles that control breathing. Dr. Schmidt said, "If you think you might have sleep apnea, see your doctor so he or she can refer you for a sleep study and then call our office for a no-charge consultation to determine if you are a candidate for the snore appliance."
Dr. Schmidt is also an emergency dentist in Huntington Beach and is available during the evenings and on weekends. Consumers are encouraged to contact the clinic as soon as possible in the event an accident requires immediate attention. An emergency includes any traumatic injury, lost restorations, tooth or gum pain and broken appliances.
About
The Olive Dental Group is headed by Dr. Gary Schmidt and offers both cosmetic and general dentistry in California. Together with Doctors Alex Kalmanovich and Brent Fung, Dr. Schmidt combines excellence in dentistry with friendly and experienced service. Patient comfort and service quality remain as the hallmarks of the Olive Dental Group.
Contact
Olive Dental Group
6432 Bolsa Avenue
Huntington Beach, CA 92647
Phone: (714) 891-5245
Phone: (714) 591-0033
Website: http://garytschmidtdds.com/