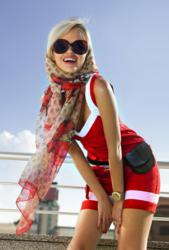 The New Hands Free!
Henderson, NV (PRWEB) April 17, 2013
Looking for the Perfect Mothers Day Gifts? The Hipzbag® is a modern, cooler take of the fanny pack popularized in the early 1980. Today's hipper, fashion-forward incarnation is perfect for a day at the beach, out shopping, or weekend errands around town.
Each year, finding the perfect Mothers Day gift can be a challenge—the Hipzbag is the gift that keeps on giving, making Mom's life just a little easier. Mothers of all ages find Hipzbag one of those great little finds that changes their life. It was on the most wished for list QVC last fall.
Designed to ride on your hip, by attaching to your belt loops or a thin waist strap, Hipzbag® features a zippered compartment in the front, perfect for carrying money, keys, iPods, cell phone, etc.
"I am a mother and a business owner," says Kathy Crifasi, the inventor of the fashionable waist bag. "I invented the Hipzbag because I was walking around holding my phone as if it were an appendage. It worked fine except I needed my hand. I almost bought a fanny pack but decided I was just too cool for that. I created the Hipzbag out of this shift in the world of our attachment to our cell phones. I now have peace with my cell phone. No more losing my phone, dropping my phone or missing those calls."
Hip Shift Corp has a habit of creating fashion that is functional. For Mothers Day, they are offering a Free Gift when you buy a Hipzbag. This offer is online at http://www.myhipzbag.com under Special Offers.
New mothers sport the Hipzbag so they can carry their children, strollers, groceries etc. Some mothers ditch the purse, using the Hipzbag as a wallet tossing it in the diaper bag as an option.
Professional moms use the Hipzbag at work and home. At work, their cellphone and essentials are on their body so they do not have to lug that purse between cubicles and meetings. Their cellphone is attached, so no more worrying about missing those important calls.
Grandmothers are over carrying that big purse; it gets heavy and can cause neck and shoulder pain. The Hipzbag® carries all they need for the day keeping their essentials safe and secure on their body.
Hipzbags are great for shopping, traveling, concerts, hiking, biking, college, working out, sporting events and more.
About Hipzbag®
Creator, Kathy Crifasi, computer nerd by trade, created the Hipzbag purely out of necessity. Walking around holding her cellphone, wanting it to be attached to her body—Kathy could not find a solution, so she designed one! Hipzbag® is a product of Hip Shift Corp, a company bringing to market functional fashion products for the everyday woman. Shop the new line on http://www.MyHipzbag.com.