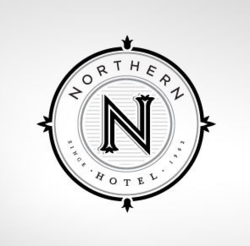 The Northern Hotel provides a unique set of sound systems, networking and presentation environments. This provides us the opportunity for nationally recognized conferences in a best-in-class environment.
Billings, Mont. (PRWEB) January 30, 2013
The Northern Hotel today announced it will be the only hotel in a five state region to offer state-of-the-art-technology for special events and business meetings. Guest rooms will also be equipped with the latest technology available for room access and have streaming capability from the event spaces.
"When we designed the Northern, we wanted guests to have the best technological amenities at their disposal. Our goal was for things to appear to be magic but they had to follow the ATM standard—if the technology was harder to operate than an ATM, we didn't want it," said Mike Nelson, co-owner of the Northern. "We have achieved that and will be the only hotel in Montana to offer these advances. Events will truly be memorable with the amenities we offer."
The Northern Hotel offers 12,000 square feet of meeting space for group events from 10 to 700 participants. The ballrooms feature a state-of-the art sound system and color-selectable LED theatrical lighting. Hosts of meetings and weddings will be able to implement dramatic lighting effects using an iPad interface. In addition to LED lights that can wash the room in guests' choice of colors, there are spotlights built into the ballrooms to highlight speakers, brides and bands.
The Grand Ballroom has 60 ceiling speakers to provide a conversational sound level, allowing comfortable listening anywhere in the room. For live performances, these speakers can supplement the dance-floor speakers. Two thirteen foot wide, high-definition video screens are located in the main ballrooms to display video and business presentations. Additional monitors are available for the visually impaired and live content from the ballrooms can be streamed to guest rooms.
Eight conference rooms and two boardrooms feature a similar level of technology. Both boardrooms are outfitted with 60-inch Polycom HD video conferencing capabilities and HD 6.1 channel surround sound. The Enterprise board room offers an xBox 360 and wet bar for breaks. An anteroom is outfitted with Internet connections and the ability for assistants to listen in on meetings and video conferences. The P.B. Moss board room features a fireplace and seating for 15. All other conference rooms offer Internet, WiFi, managed sound systems and 10 foot video monitors.
The 160 guest rooms and suites will allow up to 50 hotel channels of custom content, in addition to the 130 channels of satellite HD programming, on 42-inch LCD TVs. They also offer both wired and wireless Internet access. Guest room doors use a combination of RFID and NFC to eliminate the mag stripe cards used by many hotels. This technology provides the highest level of security and convenience for hotel guests. The door locks will support entrance using cell phones when the NFC software is released. This allows frequent travelers to register with their Smartphone and go directly to their room, bypassing the front desk. WiFi connectivity will be available throughout the facility.
"MSU Billings is holding the annual Extended Learning Institute (XLi 2013) conference and is looking for a venue that contributes and enhances the latest technology related to new learning environments, online course delivery and classroom technologies," said Michael Barber, chief information officer, Montana State University Billings. "We found that the newly remodeled Northern Hotel provides a unique set of sound systems, networking and presentation environments which exemplify the learning environments required for higher education. This provides us the opportunity for nationally recognized conferences in a best-in-class environment."
###
About the Northern Hotel
The Northern Hotel was first established in Billings, Montana in 1902. In March, 2013, after undergoing a complete renovation, the hotel will reopen under new management. With its luxurious design, state-of-the-art technology, and two different dining options, the Northern will once again be the place to stay and to host any event in Montana. For additional information on the Northern, please call 406-867-6767 or visit http://www.northernhotel.com.