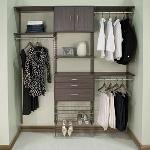 Adding BIM models to ARCAT saves architects and builders a significant amount of time and money.
Cincinnati, OH (PRWEB) March 20, 2013
Organized Living, a leading manufacturer of closet and storage solutions, now offers its full family of product as BIM objects and in an automated specification writing program on ARCAT.com.
BIM, or Building Information Modeling, offers three-dimensional, dynamic spatial models and incorporates detailed product information, quantities and properties. The automated specification, or SpecWizard, guides architects through selecting and configuring closet design plans and then generates a complete CSI 3-part format specification based on decisions that architects and builders make when selecting and configuring the product. Once the specifications are received, they are easy to download for projects and office masters.
"Adding BIM models to ARCAT saves architects and builders a significant amount of time and money." stated Gil Foltz, executive vice president of Organized Living. "Where it once took around 30 weeks to develop homes and even more on a commercial project, by using BIM, architects can cut that time in half and as a result, builders can construct more homes. Not to mention the savings they'll gain by reducing the amount of construction errors on jobs."
In addition to creating accurate graphics, ARCAT and Organized Living have added appropriate product data to each object to save architects valuable time doing data entry and product research. All of Organized Living's objects, graphics and content, are uniform and modifiable for easy use. In addition to product information, ARCAT has embedded links in the objects to Organized Living's CSI 3-Part specs.
Organized Living's product lines are already known for being high quality, versatile closet and storage solutions with easy to sell upgrades. Now, by adding Organized Living product models to BIM, builders and architects can differentiate themselves in a crowded market by offering a level of customization that their competitors can't match.
The BIM content is free to download from ARCAT.com. You can view the Organized Living BIM objects and SpecWizard at http://www.arcat.com/arcatcos/cos35/arc35382.html.
For more information on Organized Living's full family of products, visit OrganizedLiving.com.
Organized Living brings superior storage and organization to the world through strong products, strong people and strong brand, helping people organize their lives. From the closet to the kitchen to the garage, Organized Living offers high-quality, innovative storage and organization products that make everyday life easier and sells through professionally installing dealers, retailers and online retailers. http://www.OrganizedLiving.com.