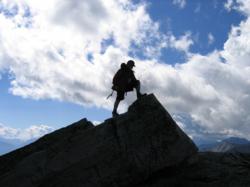 "Even Superheroes Have Limited Powers."
Los Angeles, CA (PRWEB) March 21, 2013
Motivated by the loss of her brother in the backcountry of Yosemite in 2005, PACK6 owner Honor Boone hopes to use today's Spring launch of her new company to educate the public while offering compact, pre-assembled kits of essential tools for hikers. "It still amazes me," says Boone, "how many people walk off into the wilderness without being prepared." It's a mistake that can turn a bad day into a tragedy.
The "ten essentials" of hiking is an idea that originated with the Mountaineers, and continues on today with the Boy Scout pack list, among others. "These are not survival kits, per se" says Boone. "We offer items that – along with food, water, and extra clothing - every hiker should carry on every hike. Even a small child can carry a whistle and learn to use a signal mirror, but these items become useless to a lost child if they're buried in Mom's backpack," she adds.
In her quest to find quality, lightweight gear at a reasonable price, Boone researched hundreds of products, and eventually decided to offer two different options. The "Hiking Essentials Kit" consists of six pieces of name-brand, quality gear, including a headlamp, compass, knife-multi-tool, signal mirror, whistle, and choice of fire starter or emergency "bivvy" sac. This kit also comes with a waterproof, roll-top fanny pack. "Many hikers discard their belongings when they get into trouble," says Boone. "With this kit, a hiker can always strap on what he needs most, even if he has to leave a backpack behind."
The second kit consists of what Boone calls the "Bare Essentials:" signal mirror, whistle, and reusable emergency blanket. These kits, she says, are well-suited to younger hikers, as well as more experienced backpackers who already have most of their own equipment. Every kit PACK6 sells also contains breakaway lanyards and safety tips.
The Hiking Essentials Kit will retail for $129.95, while the Bare Essentials Kit is priced at $24.95. Ten percent of all net sales will go to Friends of Yosemite Search and Rescue and the National Association for Search and Rescue.
Boone is now available for Hug-A-Tree presentations for children's groups around Southern California. Details can be found at http://www.pack6.biz.
Boone's brother – Michael Ficery – was hiking alone in the Tiltill Valley region of Yosemite in June 2005 when he failed to return on schedule. In spite of what became the most expensive search in the park's history ($452,000), Ficery's remains were never found. While most lost or injured hikers are eventually located, thousands of search and rescue incidents play out in wilderness areas around the country every year. Most, says Boone, result from errors in judgment, and many are very preventable. Somewhat surprisingly, the most "at risk" group is males, age 20-29, according to a 15-year study of U.S. National Parks.
For more information email Honor Boone at info@pack6.biz, or phone 855-PACK6-NOW