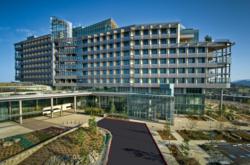 Patients being awakened from much needed sleep to have their vital signs taken will become a thing of the past.
Escondido, Calif. (PRWEB) February 26, 2013
Doctors and nurses at the new Palomar Medical Center ushered in a new era in patient safety recently with the historic first use of a wrist-worn device that measures patient vital signs and allows for continuous and remote wireless monitoring. (See media coverage)
Palomar Medical Center is the first hospital in the nation to deploy the ViSi® Mobile System made by San Diego-based Sotera Wireless. This high-tech device is designed to increase patient safety by keeping clinicians wirelessly connected to their patients - whether they are in bed or ambulatory - and giving clinicians the ability to recognize early signs of deterioration so they can intervene sooner.
"It's very exciting that we are the first hospital in the world to use the ViSi® Mobile," said Palomar Health Chief Medical Information Officer Ben Kanter, M.D. "Patient safety and comfort are our highest priorities. Having reliable data about the patient's condition is essential to responding to changes at the earliest possible time and thereby preventing deterioration or even death. The ViSi® Mobile allows for the delivery of accurate data in a consistent, non-invasive manner."
The FDA-approved ViSi® Mobile System continuously monitors all core vital signs -blood pressure, heart rate or pulse rate, electrocardiogram (ECG) or heart rhythm, blood oxygenation level, respiration rate and skin temperature - all with the monitoring accuracy typically found in intensive care units. The ViSi® Mobile is able to transmit patient vital sign information to remote viewing or notification devices that clinicians can monitor. A major component of the ViSi® Mobile is an effective alarm management system.
At Palomar Medical Center, the ViSi® Mobile will be able to interface with the hospital's electronic medical record system, which will reduce the need to manually document patient vital signs.
The new groundbreaking technology is intended for general medical/surgical floor patients, who have traditionally been considered lower-acuity care patients. It will not be used in intensive care units, where patients are already being monitored continuously.
Nursing staff members who use the ViSi® Mobile system will not have to wheel around bulky monitoring machines whenever they need to check a patient's vital signs. Nurses and doctors who want to do spot checks can do so without disturbing their patients.
"Patients being awakened from much needed sleep to have their vital signs taken will become a thing of the past," Palomar Health Chief Nurse Executive Lorie Shoemaker said. "Rather than checking vital signs every several hours, our participating clinicians will be able to obtain continuous measurements without disturbing the patient, and receive instant alerts if a patient's condition begins to deteriorate. At the bedside, they can simply tap the ViSi® Mobile monitor for an instant reading of heart rate and pulse, or they can check from a remote viewing device," Shoemaker said.
"It's always important to get patients up and moving around the units as soon as possible after surgery," Shoemaker added. "With the ViSi®, Mobile we can watch their vital signs while they're walking. If their heart rate changes, we'll know that right away and take appropriate steps to keep them safe."
Palomar Health's historical first-use of the ViSi® Mobile System underscores the health care system's commitment to making technological advancements in the delivery and management of patient care, said Palomar Health Chief Innovation Officer Orlando Portale.
"Having Sotera in our portfolio of innovative companies, positions Palomar Health, and the San Diego region at the forefront of the mobile healthcare wireless revolution," Portale said.
Sotera plans to incorporate novel sensing technologies in future versions of the ViSi® Mobile System. These include Sotera's patented continuous non-invasive blood pressure and patient posture/activity monitoring, a novel feature that will alert clinicians when an unattended patient has been immobile for too long, which could increase the risk of pressure ulcers, or has fallen.
"The prospect of a hospital stay is often stressful for patients and their families," said Gary Manning, Sotera Wireless Vice President of Global Sales and Business Development. "The ViSi® Mobile can offer a greater sense of confidence, while opening a new standard of care and increasing staff efficiency.
"We look forward to working with Palomar Medical Center and other hospitals in the future to study new ways to enhance the ViSi® Mobile System and utilize it more broadly within health care facilities," Manning said.
See additional TV news coverage.
ABOUT PALOMAR HEALTH
Palomar Health is the largest public health-care district by area in California and the most comprehensive health care delivery system in northern San Diego County. It is governed by a publicly-elected board of directors, and its primary service area in Inland North San Diego County has more than 500,000 residents.
A Magnet® recognized health care system, Palomar Health has several facilities, including hospitals and skilled nursing facilities in Escondido and Poway as well as Palomar Health expresscare health centers in Escondido, Rancho Penasquitos and San Elijo Hills in San Marcos in North San Diego County and Temecula in Riverside County.
Palomar Health provides medical services in virtually all fields of medicine, including primary care, heart care, emergency services, trauma, cancer, orthopedics, women's health, rehabilitation, robotic surgery and bariatric surgery.
For more information about Palomar Health, please visit http://www.PalomarHealth.org.
ABOUT SOTERA WIRELESS
Sotera Wireless, Inc. is a San Diego, California-based medical device company dedicated to the development, marketing and sale of a new generation of comprehensive vital signs monitoring.
Sotera's mission is to improve patient safety by empowering clinicians to detect early signs of deterioration in virtually any care setting and enable early intervention and rapid response, all without limiting the patient's freedom of movement.
More information on the company can be obtained at [http://www.soterawireless.com or by sending an email to info(at)soterawireless(dot)com.