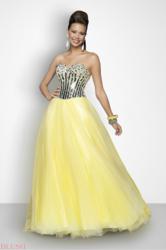 The gown [style 5224] is cut from sizes zero to 30 and is available in three different pastel colors: lemon, spring green, and periwinkle
New York, New York (PRWEB) March 20, 2013
Blush Prom has always made their name well-known for stunning styles cut in a wide array of pastel colors and Blush Prom Style 5224 is no exception, for 2013.
Blush Prom would like to announce they have more of Style 5224 available to retailers across the country. Style 5224 is sexy yet elegant with a sweetheart neckline and corset top. The top maintains a beautiful structure with silver rectangles in a herringbone pattern and incredible crystals that line the bust.
A lace up back provides room for movement so that you can easily get down on the dance floor during prom. The tulle bottom is full, but not overbearing in this ball gown featured in the Pink Collection by Blush Prom.
"The gown [style 5224] is cut from sizes zero to 30 and is available in three different pastel colors: lemon, spring green, and periwinkle," Simmons says, a Blush Prom sales associate.
The end is near for prom season 2013 and our inventory is quickly diminishing. Blush Prom mentioned that if buyers are still in search of a dream ball gown, they are urged to contact local Blush retailers today!
To see all of their prom dresses, visit them website at: http://www.blushprom.com/blush-prom-dresses
About Blush Prom by Alexia
For over 30 years, Alexia Designs has been creating beautiful dresses for all occasions. Blush Prom, the high fashion division of Alexia Designs, offers dresses for proms, pageants, homecoming formals and other social occasions. You can view all of their dresses at http://www.blushprom.com