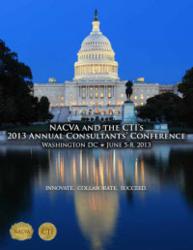 "We have assembled an outstanding faculty to present the latest theories and practical applications that up-and-comers and seasoned business valuation and financial forensic analysts can implement to build a thriving practice," Brien Jones, EVP, NACVA/CTI
Salt Lake City, UT (PRWEB) March 29, 2013
The National Association of Certified Valuators and Analysts and the Consultants' Training Institute will collaborate to host the 2013 Annual Consultants' Conference, June 5–8, 2013 in Washington, DC. Themed "Innovate. Collaborate. Succeed.", the four-day conference will serve as a forum where ideas, marketplaces, and people from around the globe intersect to expand their networks, explore concepts, and share ideas on how to meet the demands of the dynamic and unpredictable world economy.
The conference will be hosted at the Washington Hilton Hotel in northwest Washington, DC and will feature 57 sessions covering a broad spectrum of the highest demand specialty areas within the accounting and financial consulting profession, those being business valuation, mergers and acquisitions, succession/exit planning, financial forensics, expert witnessing, forensic accounting, healthcare valuation, risk management, and venture capital valuation. Industry standards and professional ethics will also be discussed. Attendees will have the opportunity to earn up to 38 hours of continuing professional education (CPE) credit in compliance with the National Association of State Boards of Accountancy (NASBA).
"We have assembled an outstanding faculty of over 50 presenters that represent the industry's masters and emerging leaders to present sessions on the latest theories, practical application, tools, and techniques that ambitious up-and-comers and seasoned business valuation and financial forensic analysts can implement to support their consulting engagements. The knowledge they will gain from these sessions are designed to help bolster their skills and to assist them in building a thriving practice," states Brien K. Jones, Executive Vice President for Business Development and Continuing Education for NACVA and the CTI. "Each year this conference, which is the first major conference of the year in the accounting and financial consulting profession, attracts 700 to 800 U.S. and international business valuation and financial forensic analysts. Not only does the conference deliver technical content, but numerous social events are planned that allow the attendees to expand their networks."
The conference keynotes, The Firm of the Future: A Radical Business Model for Professional Firms being presented by Ron Baker of the VeraSage Institute, and Advanced Pricing: Tools to Increase Revenue and Pricing Competencies being presented by Michelle Golden, CPF of Golden Practices, will address how today's accounting and financial consulting firms should consider evolving into a new era of doing business.
For information, including the schedule of events, early registration discounts, exhibit and sponsor opportunities, and travel services please visit the conference website.