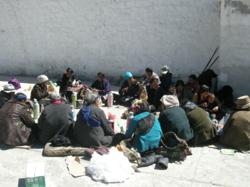 Tibet facts you'd better know before you travel to Tibet.
(PRWEB) March 28, 2013
Lhasa based Tibet travel agency, Tibet Ctrip Travel Service-TCTS, has been promoting responsible travel by making visitors aware of cultural differences between the western world and Tibet. Tibet was largely inaccessible throughout a great portion of its history giving it's culture a unique opportunity to blossom into of the most unique that can be found anywhere. With modernization rapidly encroaching on the Tibetan way of life, following a few of their new Tibet travel guidelines can do a lot to preserve local culture and help Tibetans feel comfortable with foreign visitors.
Ask before taking pictures of religious sites or people. Like anywhere else, some people in Tibet may be uncomfortable with the idea of having their picture taken, while others may be enthusiastic about having their picture taken with a foreigner. Also, a majority of the temples and monasteries charge a fee for taking pictures. While on a tour of Tibet, a native Tibetan guide will know where pictures are OK and when it is necessary to pay a fee.
Be careful about sensitive discussions in public. The current political environment is unlike that of many travelers' home countries. Political discourse is a healthy part of daily life for many societies around the world, given the current situation, these kind of conversations may make some Tibetans feel uncomfortable and should be avoided.
Be charitable. Charity is an important part of Tibetan culture and is a great way to engage with locals while travelling in Tibet. Donations at monasteries and temples are appreciated. Food or money can be a great gift for a pilgrim, although try not to give candy or money to children as it encourages begging.
Speak Tibetan. Tibetan words can be hard for westerners to pronounce but any attempt is greatly appreciated. A simple "Tashi Delek" can go a long way.
Most travelers who visit Tibet will experience a world different from anything they have ever known. While travelers cannot be expected to remember every single cultural norm, following these simple guidelines let Tibetans know that their cultural and way of life is respected. Rapid modernization erodes at Tibet's unique and fascinating culture every day, to help protect what remains, travelers must be responsible and mindful of their actions.
Devin Moore provided this news release above on behalf of local Tibet travel agency TCTS (tibetctrip.com). Devin is a travel writer and independent economic analyst based in Springfield, Missouri USA. His economic research is currently focused on airfare pricing. Devin Moore works to spread awareness of Tibet and its people through publishing Tibet travel information.