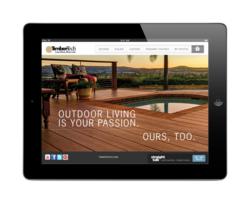 "The new TimberTech Deck Guide iPad app allows a contractor and homeowner to collaborate on a dream deck design together," said Carey Walley, VP Marketing. "Homeowners can also use the app to plan their own dream decks."
Wilmington, OH (PRWEB) March 29, 2013
Contractors and homeowners can bring their outdoor living space to life with the introduction of the TimberTech Deck Guide for the iPad from TimberTech, a leading manufacturer of alternative decking materials. Available at no charge for download from the iTunes App Store, the app enables contractors to showcase their own deck projects for customer inspiration as well as experiment with various TimberTech style and color combinations. Customers' selections can be saved and tagged with keywords by the contractor, making retrieval of the selections easy and favorite products can also be emailed for safe keeping.
"As users continue to increase usage of tablets for everything including product research and shopping, we wanted to provide a tool that would be easy for contractors to use as a selling platform," said Carey Walley, vice president, organizational development & marketing for TimberTech. "Our products and the work of our contractors are a highly visual sell, so an iPad app provides the perfect medium to bring deck projects to life. The app allows a contractor and the homeowner to collaborate to design a dream deck together." Homeowners can also use the app to plan their own dream decks.
The color visualizer feature of the app allows the user to alter photo-realistic images of three different TimberTech decking lines: Traditions composite decking which includes TwinFinish and ReliaBoard, Earthwood Evolutions and XLM, plus four different railing options: Evolutions Rail Contemporary Style, Evolutions Rail Builder Style, RadianceRail and RadianceRail Express. When combining the wide variety of deck and rail color options with the choice of composite, metal or cable rail infill options for railing, the mix-and-match possibilities are almost limitless.
For consumers who use the TimberTech Deck Guide to visualize their ideal outdoor living space on their own, desirable color combinations and finished designs can easily be shared via Pinterest, Facebook or email. Links to the TimberTech website allow users to easily find more product details or contractors and dealers in their area to contact for more information. Download the free TimberTech Deck Guide app today from the iTunes App Store at: https://itunes.apple.com/app/timbertech-deck-guide/id593152363?ls=1. For more information, visit http://www.timbertech.com.
About TimberTech
TimberTech® is one of the world's top producers of high-performance decking, railing, fencing and lighting solutions. With a passion for outdoor living and a global reputation for quality and innovation, TimberTech delivers a wide range of low-maintenance, wood-alternative products in an unmatched selection of colors and styles – all available through a network of more than 8,500 contractors and dealers worldwide. For more information, visit TimberTech.com or view product installation videos on the TimberTech YouTube channel. Stay up-to-date on TimberTech by following the company on Twitter (@timbertech_deck) or Facebook (/TimberTech).