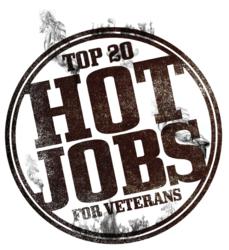 We hire military veterans because they make great employees. They bring proven technical and leadership skills, they understand teamwork and they're adaptable. - Randall L. Stephenson, chairman and CEO, AT&T
Pittsburgh, PA (PRWEB) March 06, 2013
G.I. Jobs, the premier media resource for transitioning service members, today released its first annual list of the Top 20 Hot Jobs For Veterans™. The Top 20 Hot Jobs For Veterans™ highlights the jobs for which Fortune 1000 companies are most actively recruiting post-9/11 military veterans.
The Top 20 Hot Jobs For Veterans™ will be published in the April issue of G.I. Jobs and can be viewed online at http://www.gijobs.com/HotJobs2013
Positions on the Hot Jobs list range from skilled trade jobs in construction and transportation to financial services and corporate HR positions as well as the ever-growing STEM fields of engineering and industrial technicians. The Hot Jobs For Veterans™ positions were derived directly from 2013 Military Friendly Employers® survey data of Fortune 1000 companies.
"We hire military veterans because they make great employees," said Randall L. Stephenson, chairman and CEO, AT&T. "They bring proven technical and leadership skills, they understand teamwork and they're adaptable. Bottom line, hiring veterans is good for business."
The vast diversity of positions within the Hot Jobs illustrates why military service members are sought after for a wide range of mainstream occupations by many household-name companies.
"Service members have skill sets that are applicable to a wide range of jobs and corporate America has taken notice," said Sean Collins, director for G.I. Jobs and a Navy veteran. "You'll see many Hot Jobs focus less on the direct translations of military occupational skills and more on intangible skills gleaned through military training such as team leadership, effective communication and logistics experience."
The Top 20 Hot Jobs For Veterans™ dispels the misconception that military service members require special jobs or that jobs for military-trained workers are largely held only within the government and defense industries. "Any service member looking for a civilian job should first consider these positions because these positions apply to everyone," said Collins. "Companies are actively recruiting veterans to fill these positions because they have a proven track record of success."
About G.I. Jobs
G.I. Jobs (http://www.gijobs.com) is the pre-eminent brand in military recruitment, serving the military community through world-class print, web, and digital resources at no cost to service members. G.I. Jobs is published by Victory Media, a veteran-owned business headquartered in Pittsburgh, PA. Victory Media also publishes Military Spouse and Vetrepreneur media. Follow us on Facebook at http://www.facebook.com/GIJobsMagazine or Twitter @GIJobsMagazine.
Contact: BP Media Relations for G.I. Jobs
Barbara Pflughaupt – 212-707-8181
Judee Cohen – 917-721-0663