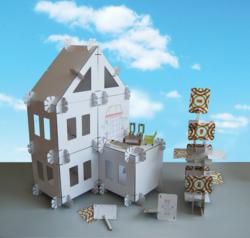 We are so excited to be showing our new collection as well as our other toys at the Toy Fair. Our toys are unique and there simply isn't anything out there like our toys."
New York, NY (PRWEB) February 06, 2013
Urban Canvas, a new innovative eco-friendly craft toy company launched in September 2012, will be exhibiting in the 2013 American International Toy Fair, February 10 -13 at the Jacob Javits Center in New York City.
Urban Canvas will present it newest collection, Modern Classics, along with their complete line of three-dimensional, sculptural craft toys. "For our new collection, we put a modern spin on two time honored toys, the dollhouse and playing cards. "says founder and art educator, Maria Chee. "Like our other toys, this collection engages children in fun, open-ended creative play. We are so excited to be showing this collection as well as our other toys at the Toy Fair. Our eco-friendly toys are unique and there simply isn't anything out there like our toys."
Urban Canvas' Modern Classics Collection features two distinct new products, the Mod House and Build 52 Playing Cards. The Mod House is a 105 piece modular build-and-play set that gives the classic dollhouse a modern makeover. It comes complete with connectors, movable walls, reversible furniture and a four person family. The entire set has an erasable crayon surface so children can not only build any dollhouse form, but can also freely decorate and re-decorate the dollhouse. Founder, Maria Chee points out that "the Mod House is a modern dollhouse for the 21st century girl. With the Mod House, young girls go beyond role play and are encouraged to build and design – two activities that have traditionally been designated as activities for boys. Even boys can enjoy this set because the Mod House taps into a variety of activities that children inherently like. A child can build, design, draw, and role play with just this one set!"
The second addition to Urban Canvas' product line is its Build 52 Playing Cards, a versatile set of playing cards that is fun for all ages. Children can create a custom deck of playing cards with this set of buildable cards. Each card is printed with standard numbers and letters but leaves plenty of room for a child to add their own design and symbol system. Each card also contains six slots so that the cards can easily transform into a building toy. Children can play classic card games with the deck of cards, invent a brand new card game, or use it as a building toy to create the ultimate house of cards. "This set of cards is a real fun way for children to share their creativity and artistic talents with other kids. With the Build 52 playing cards, children go beyond admiring their own artistic workmanship but are now using their creativity toward a functional end." notes, Ms. Chee.
Urban Canvas' complete line includes the City Streets Collection, Nature Trails Collection, and Modern Classics Collection. The complete line of toys will be on display at booth #5750 in the Earth-friendly section at the International Toy Fair in February at New York City. For more information about Toy Fair 2013 visit http://www.toyassociation.org.
About Urban Canvas:
Urban Canvas is committed to preserving the environment and developing toys that stimulate artistic growth in children. Urban Canvas toys are three-dimensional sculptural canvases for children to build, decorate, play and display. Urban Canvas promotes recycling, reducing landfill waste and increasing the overall health of the planet for our children. To learn more about Urban Canvas toys visit http://www.urban-canvas.com