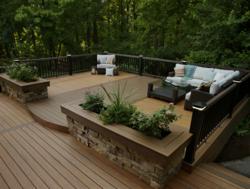 "We wanted to find a way to help educate anyone considering composite products by providing straight answers to questions buyers may have," said Carey Walley, VP Marketing, TimberTech.
Wilmington, OH (PRWEB) March 20, 2013
When it comes to building a new deck, research shows that homeowners are often confused or even intimidated by product choices, costs and related benefits. As a means to help those customers make educated choices about composite products that best meet their needs, TimberTech, a leading manufacturer of alternative decking materials, has launched an interactive Q&A platform called "Straight Talk." The new tool can be accessed at TimberTech's newly designed website at TimberTech.com/StraightTalk.
Questions submitted to the Straight Talk forum will be answered by qualified experts and will candidly address such customer questions as product costs, composite benefits over wood, worries that composite decking will mold or fade, deck cleaning and care, the different types of decking materials available, and other common questions about composite products. Questions will be answered in a variety of ways including video, infographics, charts or text responses.
"There are a lot of misconceptions about composite products, including outdated information that does not reflect the current technology and materials available in decking today," said Carey Walley, vice president, organizational development & marketing for TimberTech. "We wanted to find a way to help educate homeowners, contractors and dealers who are considering composite products by cutting through the barrage of confusing information and providing straight answers to questions buyers may have. It is our desire that every end customer is able to make an educated purchasing decision, whether they end up buying TimberTech or not."
The online Straight Talk forum ties directly in to the newly redesigned TimberTech website. The new site offers improved navigation making it easier for visitors to find what they are looking for, faster; a new organization of products allowing visitors to search by price, color or material; a handy product comparison chart to help visitors choose the product that has the features and benefits they desire for their project; and an enhanced, interactive color visualizer that allows consumers to mix and match color and styles of products.
"We understand that homeowners considering our products will likely turn to the internet for information first," added Walley. "Our web enhancements are designed to provide visitors information that will help them narrow down their product selections and then get in touch with one of our helpful contractor or dealer partners to start a dialogue on next steps."
The Straight Talk forum and redesigned website are live at TimberTech.com/StraightTalk and Timbertech.com.
About TimberTech
TimberTech is one of the world's top producers of high-performance decking, railing, fencing and lighting solutions. With a passion for outdoor living and a global reputation for quality and innovation, TimberTech delivers a wide range of low-maintenance, wood-alternative products in an unmatched selection of colors and styles – all available through a network of more than 8,500 contractors and dealers worldwide. For more information, visit TimberTech.com or view product installation videos on the TimberTech YouTube channel. Stay up-to-date on TimberTech by following the company on Twitter (@TimberTech_deck) or Facebook (/TimberTech).