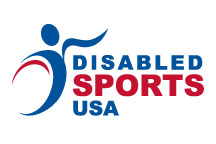 Disabled Sports USA is honored to continue partnering with the Bataan Memorial Death March organizers to provide an opportunity for our nation's wounded warriors to challenge themselves in one of the most demanding events they will attempt. - Kirk Bauer
Rockville, MD (PRWEB) March 13, 2013
Disabled Sports USA (DSUSA) will again sponsor a team of approximately 50 wounded warriors and medical support staff to attend the 2013 Bataan Memorial Death March, as part of DSUSA's Warfighter Sports program. The grueling 26.2 mile march will take place Sunday, March 17 in the high desert of White Sands Missile Range, NM.
The service members injured in Iraq and Afghanistan will join more than 6,000 other active duty, retired military and civilian marchers to test their endurance and strength while raising awareness of the abilities of our nation's wounded warriors. The majority of the warriors participating will be from major military hospitals including Walter Reed National Military Medical Center in Bethesda, MD, and Brooke Army Medical Center in San Antonio, TX. The warriors have suffered injuries including single or double arm and leg amputations, traumatic brain injuries, and other severe injuries.
This year marks the sixth consecutive year for DSUSA's participation in the Bataan Memorial Death March to honor this generation's military heroes. "Disabled Sports USA is honored to continue partnering with the Bataan Memorial Death March organizers to provide an opportunity for our nation's wounded warriors to challenge themselves in one of the most demanding events they will attempt," said Kirk M. Bauer, executive director of DSUSA and disabled Vietnam veteran, who will also be participating in the march.
The Bataan Memorial Death March, now in its 24th year, honors World War II heroes who fought to protect the Philippines. The Warfighter Sports team is also supported by the event organizers and volunteers who come together to enable the service members to experience this challenging event.
About Warfighter Sports
Warfighter Sports, a program of Disabled Sports USA, offers sports rehabilitation for severely wounded warriors in military hospitals and communities across the U.S. through a nationwide network of over 100 community-based chapters. Since 1967, Disabled Sports USA has proudly served wounded warriors, including those injured in the Iraq and Afghanistan wars, offering over 30 winter and summer sports at more than 100 events each year. Warfighter Sports rebuilds lives through sports by improving self-confidence, promoting independence and uniting families through shared healthy activities.
Contributions cover all expenses for participation of the warrior and a family member, including individualized adaptive instruction, adaptive sports equipment, transportation, lodging and meals. Since 2003, more than 6,200 of the most severely wounded and their families have been served, including those with amputations, traumatic brain injury, spinal cord injury, visual impairments, and significant nerve and muscle damage. For more information, visit http://www.warfightersports.org.