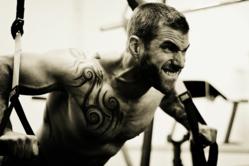 Zeus Fitness was something I'd always dreamed about creating
London, UK (PRWEB) January 08, 2013
Know what the #1 New Year Resolution is?
You'll not be surprised to hear it's "I want to lose weight!"
Yet come the end of January, very few have made any real changes to their body shape, become demoralised and slip back to their old ways.
So as we scoured the Internet through the infinite amount of weight loss guides we have seen a new name popping up over and over again called 'Zeus Fitness'.
This didn't look like your regular "lose weight' website. Featuring the impressive physique of head coach Grant Davison we delved a little deeper to find out what Zeus was all about.
Grant has been wrestling for 15 years and is one of the most in demand personal training & performance coaches in the UK. After contacting him via the website site Grant said...
"Zeus Fitness was something I'd always dreamed about creating but never seemed to find the time. I was approached by one of my personal training clients who had a very successful portfolio of Internet Businesses. We talked about it, and in late 2011 Zeus Fitness was born'
We started giving away some killer free workouts on our website, http://zeusfitness.com and the feedback was unreal. We started getting 100's of daily fans on our Facebook page and our YouTube Channel exploded"
After dissecting all their fans requests, Grant put together a brand new online training program called Zeus X which is a 28 day 'step-by-step' workout program for shredding body fat and building lean muscle taught via video tutorial with full food plans and a special members feedback form for anyone to contact Grant with specific questions.
"We went live with the program Zeus X http://zeusfitness.com/getzeusxnow on the 20th December and feedback has been superb. We've had new people joining every single day since the New Year we're even busier"
Grant says the success of Zeus X was down to the unique way it was presented...
"Many diet guides and workouts are in eBook format and are poorly explained to the viewer. With Zeus X we go through the exact technique for each exercise live on camera and give people a daily 28 day plan. They can view the videos online, download them to their smart phone, take them to the gym or even do the workouts at home with some basic equipment. We also give them the full workout and food plans they can print off and/or view on their smart phone. It's the whole package'
Grant gave us a review copy of Zeus X and we were very impressed. It certainly looks the real deal and is very step-by-step. If you're in the market to lose a few pounds and want a guide to do it, Zeus Fitness may just be the answer you've been looking for.
For more information on Zeus Fitness visit
Website: http://zeusfitness.com
Zeus X Training program: http://zeusfitness.com/getzeusxnow
Facebook Page: http://facebook.com/thezeusfitness
You Tube: http://youtube.com/thezeusfitness