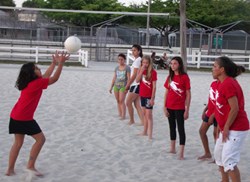 Sand Volleyball for kids and adults. Have fun and learn to play!
Coral Springs, FL (PRWEB) January 22, 2014
Have you ever wanted to learn to play volleyball? Well now there is a place that teaches beginner and intermediate level players ages 8+ how to play the game.
Sand Turtles Volleyball has been running in 5 years in Coral Springs and now Coconut Creek, FL. They are one of the only places that teach beginner players the skills they need to play volleyball.
Sand Volleyball is the number one calorie-burning sport you can play. Come on out and have some fun.
COCONUT CREEK SESSION:
BEGINNER SESSION STARTS: Tues., Jan. 14-Feb. 25th, 2014
Classes from 6:45-8 PM at Coconut Creek Rec Center: 4455 Sol Press Blvd.
COST: $125 PER PERSON.
CORAL SPRINGS SESSION:
Beginner: Mon., Jan. 13-Feb. 24th, 2014
Classes Mondays & Wednesdays from 6:45-8 PM at Riverside Park in Coral Springs.
Intermediate: Tues., Jan. 14-Feb. 25th, 2014
Classes Tuesdays and Thursdays from 6:45-8 PM at Betti Stradling Park in Coral Springs.
COST: $90 PER PERSON.
Call Mark Lewkowicz at 954-345-0500 for more information.