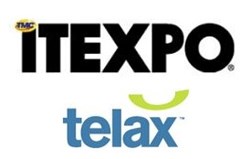 At Telax, we are constantly innovating and enhancing our hosted contact center solutions, and we are excited to showcase some of the major developments
(PRWEB) January 26, 2014
Telax, a leader in hosted contact center technology and solutions, will be showcasing their innovative contact center solutions at ITEXPO 2014, which will be held at Miami Beach Convention Center from January 28-January 31 2014.
Telax will be located at the Ontario Pavilion at booth 815, highlighting the advantages of company's innovative hosted contact center solutions combined with Telax's human capital strategy. This complete approach which focuses on helping clients implement and manage customer service operations, enables clients establish a strong competitive advantage by increasing overall customer satisfaction ratings and enhancing customer loyalty.
"Now more than ever, customer experience solutions are in the spotlight as more and more companies focus on customer satisfaction as a key business growth strategy," said Fahad Muhammad, Marketing Director, Telax. "At Telax, we are constantly innovating and enhancing our hosted contact center solutions, and we are excited to showcase some of the major developments in our solutions that enable our clients to not only increase customer satisfaction, but also increase agent productivity all while being cost effective."
Telax will be showcasing its hosted contact center solutions and some of the latest feature including the new advanced dashboard, a new agent scoring and coaching module and the latest native work force management system (WFM 2.0, the only workforce management system native to a cloud-based call center solution) that provide contact center managers with valuable capabilities to drive overall contact center performance. Telax's advance dashboard, Coach and WFM 2.0 system produce insightful analytics and critical intelligence that will enable managers to effectively schedule, coach and measure their team's performance to achieve superior results.
"Peter Drucker famously stated that 'the purpose of a business is to create a customer', we believe that the purpose of the contact center is to make those customers happy and we provide the software and expertise for our clients to accomplish their objectives" concludes Mario Perez, Founder & President, Telax.
For the latest ITEXPO news, updates and information follow the event on Twitter at #ITEXPO.
About Telax Hosted Call Center:
Telax Hosted Call Center provides the capabilities to create a world-class customer care and service desk operation. By leveraging cloud computing, Telax delivers an advanced contact center solution with more functionality than traditional hardware at a fraction of the cost. Telax clients get a customizable, easy-to-use solution that includes responsive, full-service support and no long-term contracts. The simplicity delivered by Telax Hosted Call Center enables clients like Best Buy, Johnson & Johnson, CI Investments, Health Canada and the GSA, to provide the best service to their customers, valuable business intelligence to their executives, and a user friendly solution for their agents. The result is a better customer experience today and a better organization tomorrow. And Everybody's Happy. ™
About TMC:
TMC is a global, integrated media company that supports clients' goals by building communities in print, online, and face to face. TMC publishes multiple magazines including Cloud Computing, M2M Evolution, Customer, and Internet Telephony. TMCnet is the leading source of news and articles for the communications and technology industries, and is read by as many as 1.5 million unique visitors monthly. TMC produces a variety of trade events, including ITEXPO, the world's leading Business Technology Event, as well as industry events: Asterisk World; AstriCon; ChannelVision (CVx) Expo; Cloud4SMB Expo; DevCon5 - HTML5 & Mobile App Developers Conference; M2M Evolution Conference & Expo; Secure Mobility Conference; Small Cell Summit, Software Telco Congress, StartupCamp; Super Wi-Fi & Shared Spectrum Summit; SIP Trunking-Unified Communications Seminars; Wearable Tech Conference & Expo; WebRTC Conference & Expo; and more. Visit TMC Events for additional information.