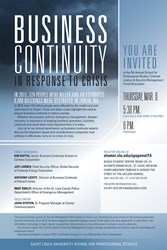 St. Louis, MO (PRWEB) February 03, 2014
The School for Professional Studies at Saint Louis University will be hosting its 5th annual Criminal Justice and Security Management Panel Discussion on Thursday, March 6. This year's topic is Business Continuity in Response to Crisis. A distinguished panel of industry experts discusses the important issues and considerations companies must address to carry on in a time of crisis.
In 2011, 124 people were killed and an estimated 8,000 buildings were destroyed in Joplin, MO. In 2013, over 70 million people were affected by the credit card and data breach at Target. These and other crises highlight the need to ensure business continuity in today's society. Whether the situation calls for emergency management, disaster recovery, or assurance of ongoing business operations, business continuity has never been more important than it is today.
Panelists:

Kim Battig, Senior Business Continuity Analyst at Centene Corporation
Jeff Larner, Chief Security Officer, Global Security at Peabody Energy Corporation
Anthony Lichty, Director of Business Continuity at Edward Jones
Mike Smiley, Director of the St. Louis County Police Department's Office of Emergency Management
Facilitator: John Steffen, Sr. Program Manager at Charter Communications
CJSM Panel Discussion Event Details:

Date: Thursday, March 6, 2014
Time: 5:30 p.m. doors open and program starts at 6:00 p.m.
Location: Saint Louis University, Busch Student Center, Rooms 170 and 171, 20 North Grand Blvd., St. Louis, MO 63108
To register for this free event, visit alumni.slu.edu/spspanel14 or call 314-977-2330.
The annual panel event is a Saint Louis University pro bono service to the criminal justice and security community. Since 2010, SLU has engaged in important dialogue around timely topics that have application in many fields, from information technology to legal counsel, engineering, human resources, law enforcement, business, security and education.
All classes in the School for Professional Studies are offered in accelerated eight-week sessions and are designed for busy adults with affordable tuition rates as well as convenient, online classes. In Saint Louis University's tradition of excellence, the School for Professional Studies caters to nontraditional students so they can pursue Bachelor's and Master's programs from globally-recognized SLU.