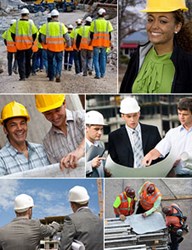 With these new tools construction hiring managers will know they are hiring talented, trustworthy employees with verifiable skills and experience.
(PRWEB) January 30, 2014
Construction Connection, the online network of construction industry professionals and construction hiring resource, is rolling out new products to improve transparency for individuals and construction companies. The new tools, which include Prove It! by Kenexa tests, certified background checks and employment and education verification, will help individuals demonstrate their skills and instill confidence in construction company owners who will know they are looking at top-tier talent.
Prove It! by Kenexa tests measure individuals' skill level on specific software, making it a valuable resource for individuals looking for construction jobs and construction companies looking to hire people with specific capabilities. The criminal background check and employment verification, which includes verifiable reference checks, takes the burden off contractors and project managers while also helping individuals affirm past accomplishments.
"With most hiring being done online these days, it can be very difficult to separate the facts from the fluff and fiction," explains Kent Leighton, a Co-Founder of Construction Connection. "With these new tools construction hiring managers will know they are hiring talented, trustworthy employees with verifiable skills and experience."
The Prove It! tests, background checks and employment verification resources are just the latest additions to the amenities Construction Connection offers to its members. Construction companies can take advantage of the Everything DiSC Workplace Profile, which assesses individuals' behavioral, communication and working styles to offer in-depth solutions and strategies for building stronger, more efficient teams. Construction Connection also boasts a wealth of educational blogs, access to industry leaders in their partners program, toolbox talks and more.
To learn more about DiSC, Prove It!, background checks, employment verification resources and their successful Consulting Simplified™ program, visit ConstructionConnection.com.
About Construction Connection:
ConstructionConnection.com was created out of a need for a more effective and streamlined way for construction industry professionals to get matched with the right industry jobs and with the right industry opportunities. The founders of Construction Connection, both industry professionals themselves, listened to both company and individuals' dissatisfaction with the traditional job boards, the paid resume blasts, the overpriced resume services and overall lack of sympathy toward the individual candidate. They also listened to the dissatisfaction from companies who post jobs only to get many irrelevant results or have to purchase high priced ads to showcase their company. Construction Connection is a patent-pending, one-of-a- kind profile creating / match-making system. The system delivers effective results. Construction Connection saves time, money and aggravation by matching people to people, people to companies, companies to people, and company to company.