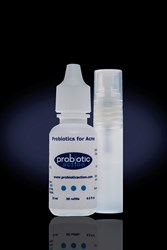 Miami, FL (PRWEB) January 30, 2014
On Jan 30 2014, acne treatment company, Probiotic Action, comments the article published by Andrew Park on The Atlantic in a conversation with Dr. Jenny Kim, a dermatologist at UCLA, told me that while the "bacterium is involved, everyone has P. acnes on their skin. Whether it's a specific strains of P. acnes, or whether it's an individual's host immune response that's the problem, we're not certain. But recently, people have begun to think that modulating immune response is a better way forward in terms of treatment. The newer trend is to look at anti-inflammatory agents rather than only focusing on the antimicrobial."
One such anti-inflammatory, isotretinoin (better known as Accutane), is a relative of vitamin A. It cleared up my own skin after nearly a decade of severe acne, amazingly. As Kim describes it, "People initially didn't understand how isotretinoin or retinoids worked, but we now know that they can modulate inflammation." Still the drug is not without its issues. It did work a miracle for me, but I also endured months of very dry skin, had to get a number of blood tests, and could not drink alcohol (while in college). Since Michigan's former Representative Bart Stupak's testified before the U.S. House of Representatives Energy and Commerce Committee in 2009 and blamed isotretinoin for the tragic suicide of his 17-year-old son, restrictions on prescribing the drug have become tight.
Treating acne is a $3 billion industry in the United States alone. That may be why there's not enormous incentive to develop a vaccine. Like the rest of medicine, though, the approach to acne is now becoming more individualized -- taking into consideration differences in the way different people respond to the disease.
Probiotic acne treatment company, Probiotic Action, comments on this new research venture. According to Fernando Perez, a representative of Probiotic Action, "Regardless of the field, looking to new research materials and experimenting is the only way to improve, and that is no different in regards to acne prevention."
Probiotic Action is an advanced natural acne treatment that uses a topical probiotic containing the "good bacteria" that is naturally found on healthy human skin. By using probiotics, Probiotic Action is an effective treatment that restores the normal bacteria content on skin. Probiotic Action will successfully clear skin while protecting skin against bad bacteria, free radicals, and pollutants.