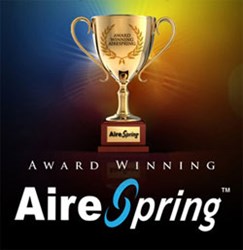 With the addition of AT&T's network, AireSpring's QuoteSpring service is now truly a one stop shop.
Los Angeles, CA (PRWEB) February 06, 2014
Award-winning AireSpring, a leading provider of fully managed voice, data and cloud communications, announced today that it has fully integrated AT&T's network into its multi-carrier meshed network solution portfolio. In addition, AireSpring has completed implementation of the AT&T pricing API.
As the first solutions provider to implement the AT&T API, AireSpring provides immediate access to AT&T's world-class lineup of industry leading products in the AT&T Partner ExchangeSM program. Business and Enterprise customers will now be able to obtain advanced AT&T solutions such as MPLS VPN, fiber-fed Ethernet, and dedicated internet access as part of an integrated, fully managed Airespring multi-carrier meshed network. The addition of AT&T's network to AireSpring's multi-carrier meshed network gives businesses access to even more innovation and customization in their choices.
AireSpring offers telecom agents, VARs, consultants and partners access to dozens of best of breed providers built into Airespring's unique Mesh network architecture. Using the proprietary Quotespring TM online interface AireSpring partners are able to instantly generate real-time service quotes on demand and immediately share a professional proposal with their customers.
Designed specifically for VARs and agents, QuoteSpring takes the complexity out of the network design process by allowing for quoting across a wide range of products and network partners. The interface allows agents to quickly access and customize quotes, commission rates, carrier comparisons, local coverage availability and much more.
"We collaborated closely with AT&T over the past several months, and we worked with their development team to ensure that API quote requests are fully optimized for extremely fast response with impressive accuracy. With the addition of AT&T's network, AireSpring's QuoteSpring service is now truly a one stop shop offering the ability to quote and integrate the widest range of networks and services. We're excited to add AT&T's industry leading solutions to our award-winning lineup," said Avi Lonstein, AireSpring CEO. "With the full integration of AT&T into our multi-carrier Mesh Network, we look forward to helping our partners close more opportunities. The combination of AT&T's network and Airespring's cloud and mesh services is a winning combination."
For more information about AireSpring and its products, visit http://www.AireSpring.com.
About AireSpring:
Headquartered in Los Angeles, award-winning AireSpring is one of the fastest growing fully managed Voice and Cloud Services providers in the USA. Over 2 billion calls traverse the Airespring network every month. AireSpring is a privately held, diversified, debt-free communications company providing a complete suite of Managed Voice, Data and Cloud services.
AireSpring's services are offered over its nationwide MPLS Mesh TM Network and includes SIP Trunking, Cloud Unified Communications, as well as traditional voice and data services. AireSpring has been named "Product of the Year," "Best Telecom Deal," "Members Choice top reseller," "Best In Show," and "Top Channel Program" in addition to numerous other industry awards.