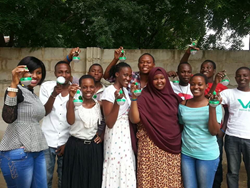 You touched me. You showed me that being a Muslim girl you can do anything. You're doing it, you're there.
Denver, CO (PRWEB) February 25, 2014
Youth account for more than 60% of unemployed in Africa, according to the World Bank. Lack of employment can undermine social cohesion and create political instability. Nokero International, Voice Giving, Awen Productions and Bold Leaders see tremendous opportunity to engage youth in entrepreneurial activities and alleviate unemployment. They have teamed up to create a powerful, unique partnership that could affect the livelihoods of thousands of African youth through sustainable entrepreneurship movements that incorporate the sale of solar light bulbs.
After being educated through Bold Leadership training, a group of Tanzanian youth started Voice Giving in February 2013 to increase awareness of environmental issues in Dar es Salaam. Founder Oyite Tungaraja says Voice Giving was created "to give voice to our communities on the issues that they seem not to have solutions." With the belief that voice creates action, they spoke to Dar es Salaam through community-driven projects funded by the sale of products that support their environmental mission: Nokero N200 solar light bulbs.
The first initiative, the Bus Stop Cleaning Project, allowed youth to take ownership over their community and feel proud of their surroundings. Voice Giving's second project, Enter Empowerment, teaches women to sell solar light bulbs as a way of spreading renewable energy solutions while also earning money for their families.
Nokero's belief is that youth have the ability to educate their communities about solar light benefits, while simultaneously creating strategic business plans funded by profits gained from selling safe, efficient, solar lights. With the help of Nokero, Voice Giving has created a movement for youth entrepreneurs to fund similar projects in Africa.
Voice Giving has discovered the power of media to be invaluable in spreading their message and driving the sales of Nokero N200 lights. Throughout the journey of Voice Giving's formation, Awen Productions' Film Director Charlie Smith followed the youth's endeavors, resulting in a documentary entitled One Step Beyond. He explains that Voice Giving is a unique organization because it is entirely youth-led and uses social media to tell the world about projects that are "simple to implement and profound in impact." Smith says, "I began following two youth without any clue that they would be founding members of Voice Giving, so this film is also a powerful tale of young people taking charge of their lives and their environment."
After recently completing a tour around Dar es Salaam to pre-screen the documentary, the Voice Giving and One Step Beyond crew will continue fundraising for a nationwide tour in May 2014. Smith notes that the documentary has a larger message, "[it] really challenges the notions we have of leadership in today's world and really asks all people, 'What are you waiting for?'" During the most recent tour, a student (known as Assistant Head Girl) at Almuntazir Secondary Muslim School started crying as she approached Voice Giving Co-Founder, Ifran Hassan, "You touched me. You showed me that being a Muslim girl you can do anything. You're doing it, you're there."
Voice Giving celebrates their one-year anniversary this month, and continues to prosper today with the help of an American social enterprise that makes solar light bulbs, a film director with an interest in redefining leadership, and a group of youth with huge hearts who hope to change the way we view entrepreneurship.
About Nokero
Nokero (short for "No Kerosene") designs, manufactures and collectively distributes safe, affordable, and environmentally friendly solar-based technologies. Our solar lights and solar battery chargers are high quality and low-cost, eliminating the need for harmful and polluting fuels around the world.
About Voice Giving
Voice Giving is a youth-led Tanzanian organization that works to bring awareness to society about environmental conservation, women's empowerment, and educational improvement particularly for people with low self-esteem.
About Awen Productions
Charlie Smith is a filmmaker who also facilitates programs for the Bold Leaders organization. He is the Director and Producer for AwenProductions.com and coordinates the One Step Beyond documentary's tours.