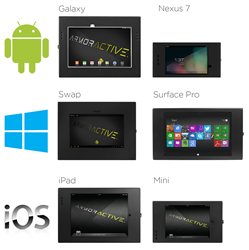 The simplicity, yet versatility, of this product meets almost every need of our diverse customer base.
Salt Lake City, UT (PRWEB) February 25, 2014
ArmorActive was the first company to bring a steel, key-locking tablet enclosure with standardized VESA mounting to the market when they launched the original Full Metal Jacket (FMJ) iPad enclosure in 2011. Over 3 years later, the FMJ tablet enclosure line is still made in the USA, with the same high quality heavy gauge steel. This robust enclosure is produced from a process called cold rolling which increases strength, holds a better shape, and produces a superior surface finish. The FMJ remains the industry standard for tablet enclosures, therefore ArmorActive has recently expanded the product line to provide a secure solution for the Apple iPad mini, Samsung Galaxy Tab /Pro, and Google Nexus 7.
The iPad mini Full Metal Jacket now enables this smaller tablet to be deployed where a less expensive, compact tablet makes sense. This iPad mini enclosure offers the same durable protection, key-locking and VESA mounting features, and a low profile design that lends itself to almost any environment. Many of ArmorActive's clients who originally deployed the Full Metal Jacket are now returning to purchase the iPad mini as an additional component to their iPad kiosks. Industries with largest demand for the iPad mini solution include healthcare, restaurant, retail, and office spaces.
Deploying Google's Nexus 7 or Samsung's Galaxy Tab 3/Pro in a Full Metal Jacket is ideal for businesses who prefer the Android operating system. The open source coding is advantageous for developers who need to build in custom functionality, such as mobile device management. International loyalty kiosk company Lyoness, for example, has leveraged this platform to build custom software for their fleet of loyalty tablet kiosks. Using these tablets also differentiates Lyoness from the majority of their competitors who use the iPad.
"Expanding our Full Metal Jacket line is our response to the overwhelming demand for the enclosure," states Benton Paul, VP of Product Development. "The simplicity, yet versatility, of this product meets almost every need of our diverse customer base."
The Full Metal Jacket enclosure has been successful in medical facilities such as St. Jude Children's Research Hospital, and is featured with the ArmorActive Medical iPad Rolling Cart. The FMJ is also well suited for use in the warehouse space, where durability is a must. For example, Warehouse Mobile Solutions mounts the FMJ on inventory carts and forklifts, requiring the iPad enclosure withstand the wear and tear of the warehouse environment.
Marketing professionals have determined that using a tablet for digital signage is more cost efficient than print, and significantly increases customer engagement. GoPro, the world's most versatile camera company, has leveraged the value of the iPad for this purpose by implementing several Full Metal Jackets in each of their trade show booths. The simple form and finish of the FMJ provides a clean backdrop to the content it delivers and looks professional when mounted in portrait or landscape orientation.
With these recent additions the Full Metal Jacket enclosure line, the entire list of compatible enclosures now includes:

iOS: iPad 2-4, iPad Air, and iPad mini
Windows: Surface Pro/Pro 2, Lenovo ThinkPad 2 10.1, Dell Latitude, and Asus Vivo 10.1
Android: Galaxy Tab 3/Pro 10.1, Asus EEE Pad 10.1, Acer Iconia A200 10.1, and Google Nexus 7
The Full Metal Jacket's push button cam key lock and nearly indestructible frame protect the more valuable investment inside, making it an ideal solution for retail and public use in general. All FMJ enclosures are 100mm and 75mm VESA compatible and can be mounted to any ArmorActive table mount, wall mount, or floor stand. Despite the durable construction, these enclosures do not interfere with WiFi, Bluetooth (iBeacon) or, 3G data communication, which is critical in most business-use environments.
About ArmorActive
ArmorActive specializes in purpose-built solutions for deploying tablet computers into any business landscape. Our goal is to provide the highest quality of service to every customer with our team of account managers who understand every phase of a tablet deployment, no matter how large or small the scale of the project.