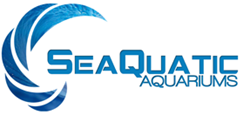 (PRWEB) March 18, 2014
SeaQuatic Aquariums was founded on the principles of dedication to customer service, meticulous attention to detail, and the relentless pursuit of developing superior products. As a part of this mission, SeaQuatic Aquariums is pleased to offer a complimentary consultation on custom triangle aquariums. To learn more about these custom triangle aquariums, consumers are encouraged to visit: http://www.seaquaticaquariums.com/custom-aquariums/custom-triangle-aquarium/.
About SeaQuatic Aquariums
At SeaQuatic Aquariums, we have experience manufacturing all acrylic aquariums up to 8,000 gallons and concrete aquariums up to 35,000 gallons. Our patented acrylic bonding method allows us to produce monolithic acrylic panels of virtually any size without the use of traditional seams. SeaQuatic Aquariums is the premier custom aquarium design company, providing years of experience, and rock solid customer service. With a commitment to innovative and unique designs, we make your new aquarium the best possible.