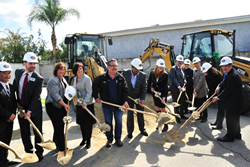 This development will translate into the creation of hundreds of jobs, while revitalizing our city and stimulating our local economy. It will be a model of smart planning and development in the San Gabriel Valley. - El Monte Mayor Andre Quintero
El Monte, CA (PRWEB) March 23, 2014
Jamboree Housing Corporation, one of California's leading community development organizations specializing in affordable housing, broke ground on a new workforce housing property that encompasses 132 apartments as the first phase of the 14-acre El Monte Gateway transit-oriented urban community in downtown El Monte, California.
A model for smart development in the San Gabriel Valley, El Monte Gateway is a public/private partnership between the City of El Monte, Grapevine Advisors, LLC, the master developer, and Jamboree. A $15-million grant from the California Department of Housing and Community Development (HCD) provides funding for significant infrastructure upgrades to surrounding streets.
When complete, El Monte Gateway's residential component will feature 485 one-, two, and three-bedroom apartments and will include 25,000 square feet of retail shops and restaurants, creating new opportunities for businesses in El Monte and its historic downtown. The El Monte Gateway project is a great example of how transit-oriented developments can encourage use of mass transportation, which reduces congestion and has a positive impact on air quality. It's located adjacent to El Monte Station, a $64-million transportation hub opened in 2012 and is considered one of the largest transit centers in the western U.S. Serving more than 35,000 riders per day, it features transit services such as clean energy buses.
Slated for completion in July 2015, Jamboree's workforce housing will provide affordable apartments for families who earn between 30% and 60% of the area median income (AMI). The rents will range from $466 to $1,184 per month based on family size and income level. For example, a family of four earning $36,675 (45% of area median income) will pay about $969/month in rent for their three-bedroom home.
El Monte Gateway workforce housing is Jamboree's first development in partnership with the City of El Monte and will be the third transit-oriented development that Jamboree has built in Los Angeles County. Currently the site of the city's public works yard, the multifamily property is being developed on 1.84 acres.
The affordable housing development is four stories – comprised of 39 one-bedroom units, 50 two-bedroom units, and 43 three-bedroom units – over one level of underground parking. Amenities will include a 3,350 square-foot community center with computer lab, fitness center, tutoring/arts room, and kitchen, as well as a central courtyard with barbecue/picnic areas, tot lot, outdoor seating, laundry facility, and bike storage to promote exercise and a healthy lifestyle.
Resident services will be provided by Jamboree's Resident Services Group, Housing with HEART, and an onsite program coordinator will offer residents the opportunities and resources to enrich the quality of family life and health. Services will be specifically tailored to meet the unique needs of El Monte Gateway residents. Programs will include activities such as homework assistance and tutoring for young people, health and wellness programs, and community-building activities for all residents.
In keeping with Jamboree's commitment to sustainability, the development is designed to achieve a LEED (Leadership in Energy & Environmental Design) for Homes certified Silver rating. This lowers energy consumption that provides a cost-saving benefit to residents and promotes a healthier living environment.
The property's energy efficient design and furnishings exceed California's Title 24 energy efficiency standards by at least 17.5%. Apartment homes will include green features such as ENERGY STAR kitchen appliances and bathroom fans, plus flow reducers in kitchen and bathroom faucets.
Funding sources for the $37.57 million workforce housing development include $23 million in investor equity by Union Bank, which also provided $4.4 million in permanent financing, and the City of El Monte, which invested $9.9 million, including $2.5 million of HOME Funds from the U.S. Department of Housing & Urban Development (HUD) for land acquisition, development and permanent financing.
Centrally located in downtown El Monte, El Monte Gateway is a walkable community that is near bike trails, Fletcher Park, the El Monte Community Hospital, and the El Monte Public Library. The property is also close to a local pharmacy, two grocery stores, health care services and local schools.
About Jamboree: Founded in 1990, Irvine, CA-headquartered Jamboree Housing Corporation is an award-winning, broad-based nonprofit housing company that develops, acquires, renovates and manages permanently affordable rental and ownership housing throughout California for working families, seniors and people with special needs. HOMES, Inc. and Housing with HEART programs comprise Jamboree's Resident Services Group. A leading nonprofit developer, Jamboree is committed to sustaining excellence with high quality affordable housing that benefits the environment, the economy and local communities. It currently has $233 million in affordable housing projects in its development pipeline and a $1 billion asset portfolio that includes the development of and/or ownership interest in more than 7,000 homes in more than 70 California communities. Currently, Housing with HEART programs and services that foster learning, health and community building are offered at 30 Jamboree communities with designated staff at each location.