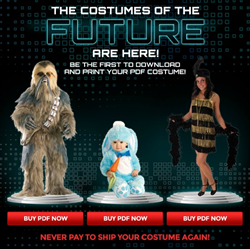 Customers can purchase a .PDF of their choice and print it off at home for an instant costume.
North Mankato, MN (PRWEB) April 01, 2014
HalloweenCostumes.com has recently announced the launch of printable costumes beginning next month. Customers may download a .PDF file of the product they like and print it out at home. This new line of costume technology will be available April 2014 on the Halloween retailer's website.
"This is a very exciting day for the Halloween costume industry," says CEO and founder Tom Fallenstein. "With the increasing popularity of do-it-yourself projects on websites like Pinterest, we knew that the next logical step for our company was to place the power in the consumer's hands."
Examples of printable costumes offered include Chewbacca from "Star Wars," an infant bunny costume, and a 1920s flapper dress.
Those who wish to be the very first to download and print their own costumes can do so at HalloweenCostumes.com. The .PDF files can be purchased for immediate use, with no shipping costs required. For more information on how to buy a costume, as well as a list of available products, please visit the HalloweenCostumes.com printable costumes information page here: http://www.halloweencostumes.com/pdf-costumes.html.
Homemade costumes are not new to either the holiday of Halloween or to HalloweenCostumes.com itself. In 2013, the costume retailer unveiled the Make a Mask feature, where customers can submit their own images to be transferred onto a large, foam mask, allowing costume-wearers creativity and personalization for their big night.
About HalloweenCostumes.com
Based in North Mankato, Minnesota, HalloweenCostumes.com is a world leading retailer of costumes and accessories. With more exclusive styles and sizes added every day, we can't guarantee your choice will be easy, but we can guarantee an exciting shopping experience that includes unequaled customer support and tools to ensure you find a costume that's your perfect fit.