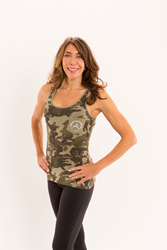 Los Angeles, California (PRWEB) April 02, 2014
YogaFit® Training Systems Worldwide is proud to announce that the YogaFit® for Warriors is the only yoga training program in the country that has been approved by the GI Bill and Military Spouse Career Advancement Program (MyCAA). Military members and spouses will now be eligible to receive financial assistance to participate in YogaFit® for Warriors trainings and seminars.
YogaFit® for Warriors helps calm troubling emotions, thought patterns, chronic tension, and may potentially ease suffering from the result of emotional or physical trauma including Post Traumatic Stress Disorder (PTSD).
Carefully designed by YogaFit® trainer, Lt. Col. Shaye Molendyke, Yoga Therapist Kristy Manual, and YogaFit® founder Beth Shaw, YogaFit® for Warriors employs safe, trauma-sensitive yoga to heal a warrior's body, mind and spirit.
By using transformational language, slower movements and focused breathing exercises as well as meditation imagery techniques addressing PTSD, this yoga practice aims to ease the mind and body from traumatic brain injury and other common issues that develop in military settings with returning veterans as well as their families.
The lessons highlight the somatic component of anxiety and depression while teaching breathing and meditation practices to help relax the body and mind. It also explores restorative yoga postures, breathing techniques and other complementary techniques to soothe the fight-or-flight response.
The GI Bill provides up to 36 months of education benefits, generally payable for 15 years following your release from active duty. The benefits are designed to help service members and eligible veterans cover the costs associated with getting an education or training, and YogaFit® is happy to be the first provider of yoga education opportunities.
MyCAA is a workforce development program that provides up to $4,000 of financial assistance to eligible military spouses who are pursuing a license, certification or Associate's degree in a portable career field and occupation. YogaFit® believes that it is important for both service members and their families to have an opportunity to learn the healing powers associated with yoga and meditation.
For further information visit http://www.YogaFit.com or connect at Facebook.com/ YogaFitTrainingSystemsWorldwide or on Twitter @YogaFitTraining.
ABOUT YOGAFIT® TRAINING SYSTEMS WORLDWIDE
YogaFit® Training Systems Worldwide was established in 1994 and has since trained more than 250,000 yoga and fitness professionals worldwide. The leader in mind body fitness education, YogaFit® is the largest training school for yoga instructors in North America with further expansion ongoing internationally. YogaFit® is the American Council on Exercise's (ACE) premier and only yoga partner. Founder and President Beth Shaw is internationally recognized as the foremost authority on yoga and fitness and has been profiled in print publications and television programs including the Huffington Post, Wall Street Journal, Oprah's O Magazine, CNN, The New York Times, USA Today, Entrepreneur, SELF and is currently a New Business Group Member of the New York Times. YogaFit® is committed to community service as well as supporting animals and humanitarian causes.
For more information on YogaFit®, please visit http://www.YogaFit.com.