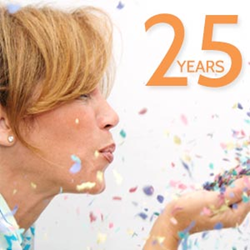 "Continuing our 25-year tradition of spiritual support and guidance, we invite our customers – and the general public – to embark on a path toward greater inner knowledge, happiness, and success."
Langhorne, PA (PRWEB) April 09, 2014
With 25 years as the most respected psychic service under its belt, Psychic Source is inviting the public to celebrate its silver anniversary in a typically empathic and spiritual way, with a 9-week guided "Journey of Self-Discovery."
Beginning on Monday April 7th and ending the week of Monday, June 2nd, the Journey will be hosted on the Psychic Source Facebook and Twitter platforms, and will provide a week-by-week framework, guiding participants to define one major goal that they will work to attain during the duration of the program.
"Anyone who wants to truly engage in a process of self-discovery is invited to participate in this special 9-week program," says Maryanne Fiedler, Marketing Director for Psychic Source. "It's completely free and you don't have to contact our psychic Advisors at all, although you can certainly do so along the way, to get over any hurdles or speed bumps you may encounter."
According to Ms. Fiedler, "We are so proud of our 25 years of providing support, healing and guidance to tens of thousands of customers, and now we want to open it up even further to include anyone who's serious about making a difference in their own lives and the lives of others."
Psychic Source customers, staff and psychic Advisors all celebrate the 25th Anniversary in a special video, viewable at: http://www.psychicsource.com/.
"We have a great staff, great clients, and it's fun to work here," Psychic Puju shares in the video.
Psychic Therese adds, "If a company could ever be a soul mate, Psychic Source is mine."
More information about the Psychic Source 25th Anniversary celebrations, as well as its history, staff, and psychic Advisors can be found in the Psychic Source 25th Anniversary Newsletter.
*****
About Psychic Source:
Founded in 1989, Psychic Source is the nation's oldest and most respected psychic service. Psychic Source's advisors are experts in astrology, horoscopes, numerology, tarot cards, clairvoyant readings, and many other psychic disciplines. Psychic Source believes in its community of authentic Psychics and stands behind the authentic psychic readings they deliver to clients. Visit them online at http://www.psychicsource.com.
For more information, contact:
Maryanne Fiedler, Marketing Director
maryanne(at)psychicsource(dot)com
215-953-8568