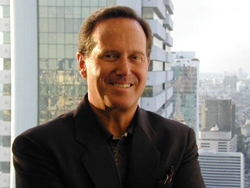 Grow cautiously and conservatively on cash only to remain agile, maintain control, and grow strategically
San Diego, CA (PRWEB) May 02, 2014
Tiger-Consulting, an American-owned and managed firm specializing in Asia HR, employee payroll, and PEO outsourcing services for American, Canadian, European and Australian based enterprises, announced today the firm now serves 200+ clients. Tiger-Consulting has become a trusted partner to big brands around the world. Founder and CEO, Neil Satterwhite, attributes the firm's success to "being on the ground" in each country, growing the consultancy only as cash allowed, and never accepting "a penny" of outside capital.
"The formula for success is simple. Put the client first. Protect and serve them well. Don't make the client sweat the small stuff. Do the work in-house wherever possible, collaborate with the right partners and price your services competitively," said Tiger-Consulting Founder & CEO, Neil Satterwhite.
For over 20 years, Tiger-Consulting has been providing software development and consultancy services to big name HR, Payroll providers. Seven years ago, the boutique firm began directly supporting enterprises under its own umbrella. In just seven years, Tiger-Consulting has grown from directly serving one client in Singapore to 200+ clients with offices and teams on the ground in 14 Asian countries.
"To remain agile, maintain control, and grow strategically, don't accept funding from an outside source. We've never raised capital, opting instead to grow organically on cash only to protect our hands-on approach, and careful, as-needed expansion across Asia-Pacific," added Satterwhite.
With 14 offices across Asia including Australia, Cambodia, China, Hong Kong, Indonesia, Korea, Malaysia, Philippines, Singapore, Taiwan, Thailand, and Vietnam, Tiger-Consulting serves as the "man on the street" providing enterprise HR, payroll and business support throughout Asia-Pac. The firm supports businesses that have or want to have 1-100 employees across Asia. Its 200+ enterprise clients span industries such as IT, telecom, social networking, finance, pharmaceuticals, travel, recruitment, and hospitality.
"Our goal is to make it as easy as possible for Western and European businesses to join—and succeed—in the thriving Asia markets. We help them hit the ground running. I want to thank my team. They work hard and well together. Without this team—most of whom are college graduates and bilingual to provide premium client care—there'd be no Tiger-Consulting. I'm humbled by their efforts and what we've achieved together," added Satterwhite.
For questions about Tiger-Consulting's HR, Payroll, PEO and/or Local Bill-Pay Services in Asia, contact SalesUS(at)tiger-consulting(dot)net. Custom quotes are free of charge.
About Tiger-Consulting
Tiger-Consulting is committed to making expansion and management of satellite operations easier for international businesses. The HR, Payroll, Bill-Pay, and Employment Outsource Firm supports operations for 200+ enterprise clients that have (or want to have) 1-100 employees in Asia-Pacific. Tiger-Consulting has offices and experienced teams on the ground in 14 countries: Australia, Cambodia, China, Hong Kong, India, Indonesia, Korea, Malaysia, New Zealand, Philippines, Singapore, Taiwan, Thailand, and Vietnam. Through strategic partners, the firm also supports clients in Europe, South America, and other key markets.