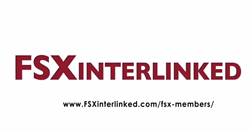 When you sign up as a member you get automatically upgraded to VIP status!
(PRWEB) May 05, 2014
FSXinterlinked President, Delray Wannemacher, announced today that FSXinterlinked has launched an automatic VIP upgrade for those who register to become an FSXinterlinked Member.
FSXinterlinked is a private organization comprised of FINRA broker/dealer firms and investment professionals and funding sources. It is their goal to make FSXinterlinked membership the most exclusive and valuable membership in the industry. To that end, a list of membership options, pricing, and benefits per type of FSXInterlinked members is available on their website.
Along with their physical events, every member is registered on the Interlinked.com online portal. This is a private portal with the best investment opportunities, resource companies, and investment professionals all in one place for one purpose, to get business done!
In order to accommodate their growing membership, FSXinterlinked has rolled out three new programs: Members, VIP and their Exclusive Elite VIP loyalty programs.
"When you sign up as a member you get automatically upgraded to VIP status!" Delray Wannemacher stated.
To learn more about FSXinterlinked Membership, visit http://www.fsxinterlinked.com.
About FSXinterlinked Investment Conference
FSXinterlinked is the premier investment conference organization in the United States. Founded as Financial Services Exchange (FSX) in 1983, it is one of the longest standing and most trusted investment conferences in the country for Broker Dealers and financial professionals. For more information about our organization, please go to http://www.FSXinterlinked.com/.
Safe Harbor Statement
This press release may contain information that constitutes forward-looking statements made pursuant to the safe harbor provisions of the Private Securities Litigation Reform Act of 1995. All statements, trends, analysis, and other information contained in this press release, including words such as "anticipate," "believe," "plan," "estimate," "expect," "intend," and other similar expressions of opinion, constitute forward-looking statements. Any such forward-looking statements involve risks and uncertainties that could cause actual results to differ materially from any future results described within the forward-looking statements. Risk factors that could contribute to such differences include those matters more fully disclosed in the Company's reports filed with the Securities and Exchange Commission. The forward-looking information provided herein represents the Company's estimates as of the date of the press release, and subsequent events and developments may cause the Company's estimates to change. The Company specifically disclaims any obligation to update the forward-looking information in the future. Therefore, this forward-looking information should not be relied upon as representing the Company's estimates of its future financial performance as of any date subsequent to the date of this press release.