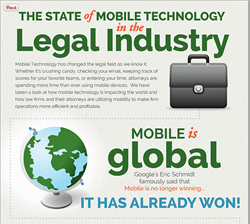 Attorneys are spending more time than ever before using mobile devices. This infographic dives into the ways that mobility is affecting the world and how law firms and their attorneys are utilizing mobility to make firms more profitable and efficient
Pittsburgh, PA (PRWEB) May 08, 2014
Bellefield Systems announced today the release of an infographic, titled The State of Mobile Technology in the Legal Industry. This infographic illustrates in detail the transformation currently taking place in the legal industry, in which mobile technology is a major player. Mobile usage among attorneys is at an all-time high, which is not only changing the ways that attorneys work within their firms, but the way that firms operate.
"Attorneys are spending more time than ever before using mobile devices. This infographic dives into the ways that mobility is affecting the world and how law firms and their attorneys are utilizing mobility to make firms more profitable and efficient." said Bellefield Co-Founder, Gabriela Isturiz.
"In the year 2014, there will be more mobile devices than people in existence," Isturiz continued. "Attorneys are heavy users of these devices, with over 91% of the attorneys using smart phones. This is reshaping the legal environment and the law firm as we know it."
The infographic illustrates the following facts about mobility in legal:
44% of law firms allow BYOD and 81% provide financial support for mobile devices.
30% of time entered on mobile devices is entered on weekends and after business hours.
62% of attorneys are using Apple devices, although Android is steadily gaining traction.
The State of Mobile Technology in the Legal Industry is part of Bellefield's rich educational content that is published on the company blog. To view to infographic, visit the Bellefield blog, at http://tinyurl.com/BelleInfg
About Bellefield Systems, LLC
Bellefield is committed to helping lawyers improve their work lives by developing innovative and intuitive applications that solve real-world challenges. Bellefield's flagship product iTimeKeep ranks #1 as the most adopted Mobile Time Entry solution for attorneys. Founded by software veterans Gabriela Isturiz, Daniel Garcia, and John Kuntz, Bellefield is an independent, privately held company headquartered in Pittsburgh, Pennsylvania. To learn more, visit http://www.bellefield.com.
About iTimeKeep
iTimeKeep is a game-changing mobile application that simplifies contemporaneous time entry while eliminating the burdens of complicated and invasive time capture applications. Bellefield developed iTimeKeep to give attorneys the ability to easily get the job done anytime and everywhere, increasing adoption and improving internal operations. iTimeKeep was recently ranked by ILTA as the most adopted Mobile Time Entry solution for attorneys. iTimeKeep seamlessly integrates with leading financial systems including Elite, Aderant, LexisNexis Juris, ProLaw, Rippe & Kingston, and many others. To learn more, visit http://www.itimekeep.com