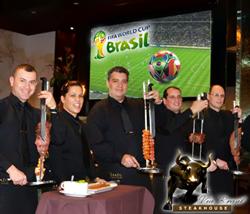 Watch the Games on 150" screen with full surround sound at Via Brasil Steakhouse in Las Vegas
(PRWEB) May 12, 2014
With Brazil hosting this year's world cup "Via Brasil Steakhouse" is embracing the spirit of multi-culturalism. Via Brasil Steakhouse in Las Vegas will be showing all of Brazil's Games, as well as, many of those from the US, Spain, Argentina, Mexico, France, Italy and more, all on a 150" screen with full surround sound.
The World Cup is coming up this June and July and the host country is Brazil. A fitting destination as Brazil is known for its passion for the game and its multi-cultural history. Brazilians are known for welcoming and celebrating all nationalities and it's an ideal that's reflected in the Cuisine as well as the legendary celebrations.
Via Brasil Steakhouse in Summerlin of Las Vegas will be opening for the start of the World Cup, Thursday June 12 and then open for Lunch Mondays, Tuesdays and Fridays from 12pm on, as well as, Saturday Brunches starting at 12pm and Sunday Brunches at 10am until the completion of the World Cup on July 13. Guests will enjoy great food and drink specials throughout the games.
And if your team wins that day Via Brasil Steakhouse will be the place to display it proudly. Throw on the Jersey of your Country's team and Via Brasil Steakhouse will buy your first drink at the bar to celebrate or head to the dining room and enjoy the all-you-can-eat Rodizio Prime dining experience at a special price of only $29.99.
Of course being an authentic Brazilian Steakhouse means that if Brazil wins the party gets just a little bigger at Via Brasil Steakhouse with a host of entertainment and other added surprises.
The finest Authentic Brazilian Steakhouses in Brazil often showcase a variety of cuisine from different cultures and nations and Via Brasil Steakhouse is no different. In the spirit of the games Via Brasil's extensive gourmet Appetizer/Salad Bar will also reflect the cuisine of the different Nations throughout the games. With Dishes changing daily to highlight the teams in play for that day.
That's only just a few of the great food and beverage specials to take advantage of during this year's World Cup at Via Brasil Steakhouse. For more information please visit http://www.viabrasilsteakhouse.com
About Via Brasil Steakhouse:
Via Brasil Steakhouse is located at 1225 S. Fort Apache Road, on the southwest corner of Charleston Boulevard and Fort Apache Road. This Brazilian Churrascaria is open seven days a week. For reservations or more information, please call 702-804-1400 or visit http://www.viabrasilsteakhouse.com. Also follow us on Facebook and Twitter @viabrasilsteakh.
Media Contact:
Anna Gomes
702-804-1400
anna(at)viabrasilsteakhouse(dot)com
http://www.viabrasilsteakhouse.com