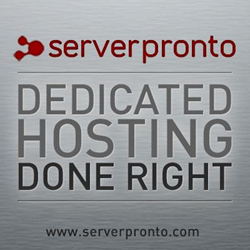 New York, NY (PRWEB) May 15, 2014
ServerPronto, a leading host for IT infrastructure, has released a new case study on customer satisfaction. Customers across various industries are reporting strong results from recent initiatives to drive return on investment.
Affiliate marketing is big business. Forrester Research estimates the affiliate marketing industry will grow to $4.5 billion by 2016. Stoorz.com is looking to get its share of the affiliate marketing pie with a unique look at coupons and deals for a range of products, from jewelry to magazines to sporting goods and beyond.
Launched in 2006 by the former director of EBGames, Stoorz.com outgrew its shared hosting environment in just three years. When the database-driven coupon site started crashing, Steve Deshaies, president and CEO of Stoorz.com, knew he needed to migrate from a shared server to a dedicated server. The challenge was finding an affordable Windows-based provider.
"Most dedicated servers are Unix or Linux PHP-based, but we're totally a Windows-based shop," says Deshaies. "We needed a dedicated server platform that offered Windows with SQL. SQL was the key because we're heavily database-driven. ServerPronto is the only dedicated server company I could find on the market that offered what we needed."
Of course, Deshaies wasn't willing to sacrifice price for reliability. If customers can't access the site he doesn't earn affiliate marketing commissions. Reliability issues were the reason he migrated from a shared hosting company in the first place.
"Stoorz.com is in the discount business, so I always look for the best performance for the money," says Deshaies. "ServerPronto offers the best performance for the money, fast response time, strong reliability in a Windows-based dedicated environment."
Beyond reliable, Deshaies says ServerPronto is proactive from a customer service perspective. Earlier this year, he noticed his dedicated server package was an older AMD system with less memory than the upgraded ServerPronto packages. He opened a customer service ticket and asked what it would take to upgrade to a newer machine. To his delight, ServerPronto handled the rest.
"Stoorz.com is one of many Internet-based companies that look to ServerPronto to help drive savings at the bottom line," says Chris Kurzweg, CEO of ServerPronto. "By empowering Internet entrepreneurs like Stoorz.com to do business more affordably, we're doing our part to keep the e-commerce economy growing."