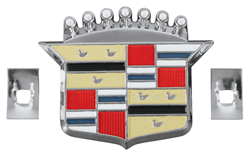 Seal Beach, CA (PRWEB) May 25, 2014
Many people believe the classic Cads from the mid-50s to the mid-70s are the most attractive and stylish cars Cadillac ever made. That's why Original Parts Group, Inc. (OPGI) offers thousands of restoration parts and accessories for the 1954 to 1976 Cadillac models, with new parts being added all the time. One of the newest additions to OPGI's Cadillac line is a premium die-cast reproduction Cadillac Hub Cap Emblem Crest that was used for a full 13 years of production from 1963 to 1976. With 13 years of the most popular cars sharing a common hub cap emblem, it has always been a challenge to find four matching hubcaps with clean Cadillac crests on them.
Instead of installing restored or recycled emblems that will never look perfect, OPGI's premium reproduction Cadillac Hub Cap Emblem, part # CE08789, makes it easy to get those highly visible center crests looking fresh and clean on every 1963 to 1976 Cadillac. Precisely cast and finished in brilliant chrome plating, each highly detailed crest is hand-painted in the exact factory colors and protected with a clear acrylic overlay. Sold individually for $39.99, each emblem comes with two mounting clips and features a locating pin to ensure an easy installation.
Celebrating over 32 years of manufacturing and retailing the highest quality restoration parts and accessories, OPGI is recognized as the nation's number one supplier and manufacturer of classic GM parts and is committed to maintaining that reputation and serving the needs of its customers for years to come. For more information, visit OPGI.com or call toll free: 1-800-243-8355.