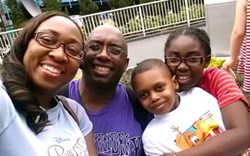 Add some cool to magic and you have our family at Disney World.
Binghamton, NY (PRWEB) May 30, 2014
Once upon a time in Dover, Delaware lives the Patterson Family. Kendall, fearless father and a competitive fencer; Dionne, a marathon-running superhero mom; Kennadie, an 11-year-old Lego robotic engineer/seamstress who turns candy wrappers into doll dresses and blankets into fashion statements; and 7-year-old Leland, a tournament-winning karate kid whose subtle humor keeps his family in stitches. "Add some cool to magic and you have our family at Disney World!" proclaims Dionne…
The Patterson story begins at Delaware State University. Both embarking on new lives as freshman, the match was lit for Kendall the first day he saw the beauty from upstate New York walking up the aisle at an assembly. It was their first day of school. "I saw her and I said, 'she's the one. I want to marry her.' " The Newark, New Jersey native points out, "I'm not one of those guys who went to college looking for a wife. But when you see her… You know."
The Coolest Black Family in America is an EBONY.com original series: an ongoing look at the intricacies, layers and compelling beauty of African-American family life. Of course, The Coolest Black Family is not one family but many. In fact, we've found that there are as many Coolest Black Families as there are versions of cool. Also consider: family doesn't always mean mother + father + kids. What defines family is connected hearts and supported souls. Ride with us weekly as we crisscross the country in search of kinfolk whose cool is so palpable and real, it comes second only to their love.