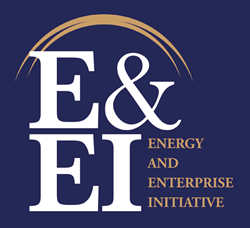 Fairfax, VA (PRWEB) May 30, 2014
Former Republican Congressman and Energy and Enterprise Initiative Executive Director Bob Inglis is available for radio, television and print interviews on President Obama's upcoming EPA regulations, which are expected to be released Monday, June 2.
Inglis, who served on the House Science Committee and Ranking Member on the Energy & Environment Subcommittee, is a small-government conservative leading efforts for free-market climate solutions.
E&EI doesn't support the President's EPA regulation of power plants to curb climate risks and encourage clean-tech innovation. Instead, E&EI is advocating an alternative free-enterprise solution that would mean more growth, innovation as well as less government and pollution.
Inglis believes the best approach to climate and energy challenges would pair the elimination of energy subsidies with a 100% refunded carbon tax, whereby consumers receive an income tax cut equal to government revenue from a carbon tax. Changing what we tax would lead to more income and fewer emissions.
WHO: E&EI Executive Director Bob Inglis (former Republican Congressman)
WHAT: Energy-policy guest to provide conservative perspective and an alternative solution to President Obama's EPA regulations
WHEN: Friday, May 30 thru Friday, June 6
CONTACT: Price Atkinson at 855.271.7770
About the Energy and Enterprise Initiative
The Energy and Enterprise Initiative is a nationwide public engagement campaign promoting free-enterprise solutions to energy and climate challenges. Based at George Mason University, E&EI works to build support for energy policies that are true to conservative principles of limited government, accountability, reasonable risk-avoidance, and free enterprise. Former South Carolina Republican Congressman Bob Inglis (1993-1999, 2005-2011) serves as executive director of E&EI. For more information, visit our website: http://www.energyandenterprise.com.