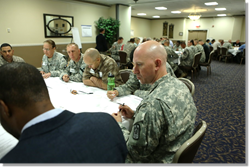 "...Our focus is to provide knowledge, resources and expertise to our veterans as well as connect them with meaningful career opportunities."Eric Engquist Assistant Vice President of USAA Military Transitions
Atlanta, GA (PRWEB) June 05, 2014
USAA continues their sponsorship of the upcoming post-military career planning seminar for exiting soldiers, facilitated by veteran-owned-and-operated management training and consulting firm Afterburner, Inc®. The Military Leader Transition Seminar is open to transitioning leaders from all ranks, and will be held from 7 a.m. to 5 p.m. July 29 at Cole Park Commons in Fort Campbell, Kentucky. The partnership demonstrates both organizations' commitment to veteran initiatives.
"USAA is dedicated to helping our military members and their families make a successful transition into civilian life," stated Eric Engquist, Assistant Vice President of USAA Military Transitions. "As proud supporters of the national Hiring Our Heroes coalition and the White House's Joining Forces initiative, our focus is to provide knowledge, resources and expertise to our veterans as well as connect them with meaningful career opportunities. This is why we are so excited to continue to sponsor Afterburner's transition workshops. Our shared passion for helping our service members and their families by equipping them with the tools they need to transition successfully makes it the perfect fit."
The full-day seminar is part of a larger initiative to encourage military members to think more strategically about their transition to civilian life well in advance of their separation or retirement dates. The course curriculum trains veterans to identify key areas of consideration and to use those as guidance throughout the planning process. Participants learn job search skills, networking, interview preparation and strategic planning skills. Most important, veterans are shown the importance of developing a lifetime civilian career as opposed to securing an initial job. The planning process used in the Military Leader Transition Seminar is the same process used by top corporations, providing each participant with an individual career plan, complete with a personal value proposition, career objectives customized to his or her previous experience, and insight into industries where military leadership skills are in high demand.
As part of the seminar, each participant will also receive a copy of "Down Range," the recently released veteran career transition guide co-authored by Afterburner founder and CEO Jim "Murph" Murphy and retired Navy Cmdr. Will Duke, Afterburner's director of learning and development. Written from the firm's nearly 20-year history working with Fortune 500 and Global 2000 clients, "Down Range" empowers exiting military members to communicate the value of their service experience and individual areas of expertise, and to use those skill sets and experience as catalysts to success throughout their civilian careers.
In founding Afterburner, Murphy recognized the correlation between skill sets that were in high demand among global corporations and the skill sets he acquired as an F-15 fighter pilot in the U.S. Air Force.
"Each week across the nation, we train our client organizations how to operate like elite military teams," Murphy says. "These best in class organizations recognize and seek the skill sets that military service members possess, yet our veteran unemployment numbers remain high.
"This is not a disparity in talent or experience. This is a disparity in communication. USAA's sponsorship allows Afterburner to train vets to strategically establish a civilian career path leveraging those in-demand skill sets, not starting all over."
For more information and to register for the course, please contact:
Roger Nixon
Director of Placement, Afterburner Inc.
rnixon(at)afterburner(dot)com
404-835-3500
About Afterburner®
Afterburner Inc. was founded in 1996 by U.S. Air Force fighter pilot Jim "Murph" Murphy and trains organizations around the world in the simple, scalable improvement processes of Flawless ExecutionSM. Encompassing three management solutions, Empower SM, Equip SM and EmbedSM, Afterburner brings elite military precision to top corporations around the world. With a client list that includes over 30 percent of the U.S. Fortune 500, Afterburner has ranked among Inc. Magazine's "Inc. 500 List of America's Fastest Growing Companies" three times and has been featured in leading publications like the Wall Street Journal, Businessweek, Atlanta Business Chronicle, Financial Times, Newsweek, and Meetings and Conventions Magazine. Afterburner also has appeared on CNN, CNBC, Fox News and Bloomberg News, among others. To learn more about Afterburner's innovative approach to professional development and strategy, visit http://www.Afterburner.com or call 404-835-3500.