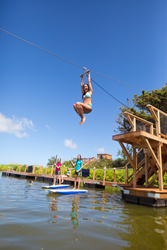 Maui, Hawaii (PRWEB) June 05, 2014
Skyline Eco-Adventures, Hawaii's award-winning zipline company and operator of the first zipline course in the United States is launching a new Zip n' Dip tour at its Ka'anapali location on Maui starting June 16th, 2014.
Experience the new lines and new activities with Maui's 1st Zip n' Dip Tour, offering a four-line zipline experience that includes the Zip n' Dip line, double racing line and two new Zip lines. The three-hour experience includes a stop at a natural mountain pool where guests can enjoy unlimited Zip n' Dips while splashing into the natural pool. Guests will also enjoy swimming and lounging on a floating raft with breathtaking mountain, ocean and off-shore island views. Guests will also have access to stand-up paddleboards and boogie boards all for an introductory price of $139.95 per person.
Skyline's traditional Ka'anapali Tour includes the original eight lines for up to 4 hours of incredible views at $149.95 per person. Panoramic views of West Maui, Molokai, Lanai and Kahoolawe, and the Pacific Ocean create the perfect backdrop for each of the zipline crossings.
Guests can mix the best of both worlds – everything from the Zip n' Dip Tour plus five ziplines from the Ka'anapali Tour – for nine total ziplines, plus a special snack served on the edge of a 1,000-foot valley overlook from Skyline's viewing platform. The 4.5-hour Ultimate Tour is $179.95 per person.
This spring, Skyline Eco-Adventures was named among Hawaii Business magazine's 2014 Best Places to Work in Hawaii. It is the sixth consecutive year that the company has won this award. Skyline was also recently selected among more than 100,000 picks in HAWAI'I Magazine's second-annual Reader's Choice Awards, earning top honors in three categories: No. 1 Zipline Company; No. 1 Zipline Course, Ka'anapali, Maui; and No. 1 Land Activity/Adventure Tour Company.
Skyline Eco-Adventures is a leading commercial zipline company that thrills more than 60,000 guests annually with "knock-your-socks-off" experiences. As the first commercial zipline operator in the United States, Skyline also specializes in the comprehensive design, development and operation of world-class zipline adventures. Skyline operates two Maui zipline tours at Ka'anapali and Haleakala, in addition to the Akaka Falls Skyline Adventure on Hawaii Island, and the Poipu Skyline Adventure on Kauai. Call (888) TO-GO-ZIP or visit http://www.zipline.com.